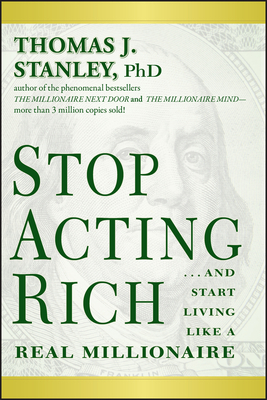 Stop Acting Rich... and Start Living Like a Real Millionaire (Paperback)
Wiley, 9781118011577, 274pp.
Publication Date: July 12, 2011
* Individual store prices may vary.
Description
The bestselling author of The Millionaire Next Doorreveals easy ways to build real wealth
With well over two million of his books sold, and huge praisefrom many media outlets, Dr. Thomas J. Stanley is a recognized andhighly respected authority on how the wealthy act and think. Now, in Stop Acting Rich ? and Start Living Like a Millionaire, hedetails how the less affluent have fallen into the elite luxurybrand trap that keeps them from acquiring wealth and details how toget out of it by emulating the working rich as opposed to the superelite.
Puts wealth in perspective and shows you how to live richwithout spending more
Details why we spend lavishly and how to stop this destructivecycle
Discusses how being "rich" means more than just big houses andluxury cars
A defensive strategy for tough times, Stop Acting Rich showsreaders how to live a rich, happy life through accumulating morewealth and using it to achieve the type of financial freedom thatwill create true happiness and fulfillment.
About the Author
Thomas J. Stanley is the bestselling author of The Millionaire Mind and The Millionaire Next Door, which have sold more than 3 million copies worldwide. A recognized authority on the lifestyles and behaviors of the affluent, Dr. Stanley is frequently quoted in the Wall Street Journal, New York Times, Forbes, and other major publications. He has appeared numerous times on the Today show, 20/20, and Oprah. Visit Dr. Stanley at www.thomasjstanley.com.