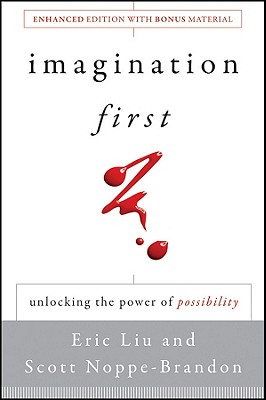 Imagination First (Paperback)
Unlocking the Power of Possibility
Jossey-Bass, 9781118013687, 245pp.
Publication Date: April 26, 2011
* Individual store prices may vary.
Description
When imagination becomes habit, it can transform your work andyour life
The best corporations know that innovative thinking is the onlycompetitive advantage that cannot be outsourced. The best schoolsare those that create cultures of imagination. Now in paperback, Imagination First introduces a wide-variety of individuals who makea habit of imaginative thinking and creative action, offering a setof universal practices that anyone can use to transform their lifeat work, home, and play. These 28.5 practices will enable anyone tobecome more imaginative and to teach others to do so as well?fromcorporate executive to educator to platoon sergeant. Bonus contentincludes
Winning "practices" submitted by the public
Guidelines for educators who want to cultivate creativity intheir classrooms
Expanded resource section
The book is filled with illustrative stories of creativeleaders, teachers, artists, and scientists that clearly illustratethe original practices and new material that shows how to bringimagination to life.
About the Author
ERIC LIU is at the New America Foundation and writes for Slate magazine. He is the author of Guiding Lights and The Accidental Asian, a New York Times notable book featured in the PBS documentary Matters of Race. Eric served as a speechwriter for President Clinton in the first term and as White House deputy domestic policy advisor in the second. After the White House, he was an executive at the digital media company RealNetworks. A frequent commentator on CNN, CNBC, and MSNBC, Eric is one of GQ magazine's "Pundits We Like" and was cited by A. Magazine a one of the national's 25 most influential Asian Americans. In 2002, he was named by the World Economic Forum one of the 100 "Global Leaders of Tomorrow." He lives with his family in Seattle, where he hosts a local NPR interview show called, "The Power of Voice" and teaches at the University of Washington's Evans School of Public Affairs. Eric speaks regularly at conferences and campuses around the country.SCOTT NOPPE-BRANDON is executive director of Lincoln Center Institute (LCI), an arts and education organization where students learn about and through the arts by focusing on works of art, including performing and visual arts, and architecture. LCI's principles support learning across the curriculum. The Institute works in partnership with pre-K through grade twelve educators and degree-granting teacher education programs, and provides numerous professional development opportunities. Founded in 1975, the Institute is the educational cornerstone of Lincoln Center for the Performing Arts, Inc, and a global leader in education and the arts. Since its inception, it has reached over 3 million students and some 50,000 educators.