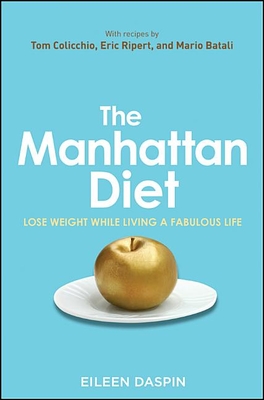 The Manhattan Diet
Lose Weight While Living a Fabulous Life
Hardcover

* Individual store prices may vary.
Description
How to lose weight and feel great--Manhattan-style
New York women are surrounded by more four-star restaurants than any other city on the planet, not to mention a pizzeria on every block and a donut cart on every corner. They enjoy it all and yet somehow they manage to look so damn good. What's their secret? They have a whole lot of them, it turns out: and now women (and men) everywhere can learn to lose weight, eat, and live the way New Yorkers do--and enjoy the same results. The Manhattan Diet reveals how real-life New York women think about dieting and how they eat, shop for food, cook, order in restaurants--even how they splurge and remain in gorgeous, fit condition. Drawing on the stories of real Manhattan women plus wisdom from top nutritionists, The Manhattan Diet offers a detailed weight-loss program and 28-day eating plan. There are also recipes from the city's most celebrated chefs. This diet has glamour, chocolate, and waist-trimming tips. What else would you expect from the most fabulous women in the world?
Includes stories of Manhattan celebrities like Anna Wintour, Sarah Jessica Parker, and Julianne Moore
Gives you a complete diet program and easy-to-follow meal plans
Shares the secrets and weight-loss success stories of real New York women
Includes recipes from celebrated Manhattan-based chefs, such as Mario Batali and Eric Ripert
Wiley, 9781118016145, 272pp.
Publication Date: March 1, 2012
About the Author
EILEEN DASPIN is an award-winning journalist and magazine editor who reports on a broad range of lifestyle subjects. She has worked at "W" magazine, People, the "Wall Street Journal," "Conde Nast Portfolio," the "New York Post," "Thomson Reuters," and the "American Lawyer" and is the coauthor of the cookbook Diary of a Tuscan Chef with her husband, celebrity chef Cesare Casella. Her writing has also appeared in the "New York Times," "Martha Stewart Living," "InStyle," "Food & Wine," D"epartures," and other publications. She lives and diets in Manhattan.