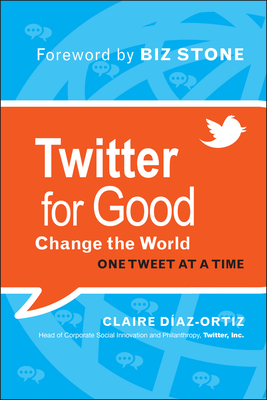 Twitter for Good (Hardcover)
Change the World One Tweet at a Time
Jossey-Bass, 9781118061930, 206pp.
Publication Date: August 30, 2011
* Individual store prices may vary.
Description
Silver Medal Winner, Social Networking, 2012 Axiom BusinessBook Awards
Silver Medal Winner, Business and Leadership, 2012 Nautilus BookAwards
The official word from Twitter on how to harness the power ofthe platform for any cause.
As recent events in Japan, the Middle East, and Haiti haveshown, Twitter offers a unique platform to connect individuals andinfluence change in ways that were unthinkable only a short timeago. In Twitter for Good, Claire Diaz Ortiz, Twitter'shead of corporate social innovation and philanthropy, shares thesame strategies she offers to organizations launching cause-basedcampaigns. Filled with dynamic examples from initiatives around theworld, this groundbreaking book offers practical guidelines forharnessing individual activism via Twitter as a force for socialchange.
Reveals why every organization needs a dedicated Twitterstrategy and explains how to set one
Introduces the five-step model taught at trainings around theworld: T.W.E.E.T. (Target, Write, Engage, Explore, Track)
Author @claired is the head of corporate social innovation andphilanthropy at Twitter, collaborating with organizations likeNike, Pepsi, MTV, the American Red Cross, charity: water, Room toRead, the Gates Foundation, the Skoll Foundation, the CaseFoundation, National Wildlife Federation, Kiva, the United Nations, Free the Children, Committee to Protect Journalists, Partners inHealth, FEMA, Ushahidi, The Acumen Fund
With more than 200 million users worldwide, Twitter hasestablished itself as a dynamic force, one that every business andnonprofit must understand how to use effectively.
About the Author
Claire Diaz-Ortiz leads corporate social innovation andphilanthropy at Twitter, Inc., and is a sought-after speaker onsocial innovation. Diaz-Ortiz is the cofounder of Hope Runs, anonprofit organization operating in AIDS orphanages in Kenya, andowns Do Well Media. She holds an MBA and other degrees from Oxfordand Stanford. She lives in the San Francisco Bay Area.Find more information at www.clairediazortiz.com and on Twitter via@ClaireD.
or
Not Currently Available for Direct Purchase