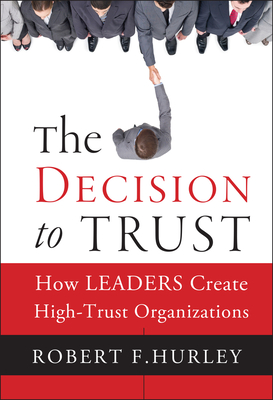 The Decision to Trust (Hardcover)
How Leaders Create High-Trust Organizations
Jossey-Bass, 9781118072646, 245pp.
Publication Date: October 25, 2011
* Individual store prices may vary.
Description
A proven model to create high-performing, high-trustorganizations
Globally, there has been a decline in trust over the past fewdecades, and only a third of Americans believe they can trust thegovernment, big business, and large institutions. In TheDecision to Trust, Robert Hurley explains how this new cultureof cynicism and distrust creates many problems, and why it isalmost impossible to manage an organization well if its people donot trust one another. High-performing, world-class companies arealmost always high-trust environments. Without this elusive, important ingredient, companies cannot attract or retain toptalent.
In this book, Hurley reveals a new model to measure and repairtrust with colleagues managers and employees.
Outlines a proven Decision to Trust Model (DTM) of ten factorsthat establish whether or not one party will trust the other
Filled with original examples from Daimler, PriceWaterhouseCoopers, Goldman Sachs, Microsoft, QuikTrip, General Electric, Procter and Gamble, AzKoNobel, Johnson and Johnson, Whole Foods, and Zappos
Reveals how leaders in Asia, Europe, and North America haveused the DTM to build high-trust organizations
Covering trust building in teams, across functions, withinorganizations and across national cultures, The Decision toTrust shows how any organization can improve trust and thebottom line.
About the Author
Robert F. Hurley is a professor at Fordham University andpresident of Hurley Associates, a consulting firm that usesbehavioral science to enhance individual and organizationaleffectiveness. He is also a core faculty member in the High ImpactLeadership program for executives at Columbia Business School. Hiswork has appeared in the Harvard Business Review and theCalifornia Management Review, among other publications. Heis based in New York City and Ridgefield, CT.For more information, please visit www.DrBobHurley.com