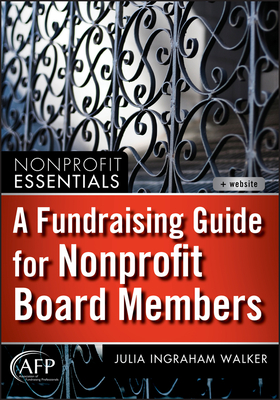 A Fundraising Guide for Nonprofit Board Members (AFP/Wiley Fund Development #198) (Hardcover)
Wiley, 9781118073568, 312pp.
Publication Date: February 7, 2012
* Individual store prices may vary.
Description
Everything you need to know as a nonprofit board member to raisemore money and help your organization succeed in meeting itsgoals
Engaging and informative, this practical guide to fundraisingcontains valuable insights that nonprofit boards need to succeed inraising money in today's dynamic economic environment. Whilewritten expressly for board members, this useful handbook alsoprovides advice to executive directors and advancement staff on howto partner with your board to build an unstoppable fundraisingteam.
A Fundraising Guide for Nonprofit Board Members shows youhow to raise more money by building board leadership and skills infundraising. This book covers it all--the board's leadershiprole in fundraising; how to organize and train your board to raisefunds; building a team with board and staff; raising funds foroperations, major gifts and capital campaigns; how to ask forgifts; plus a guide for conducting a board retreat that will leadto fundraising success.
Demystifies the ask by providing a straightforward guide on howto ask for, and close, gifts
Features case studies, real life examples, and checklists in aneasy to reference format
Offers sample materials for a board retreat on building thesuccessful fundraising team
Also by Julia Ingraham Walker: Nonprofit Essentials: Jump-Starting the Stalled Fundraising Campaign
Entertaining, practical, and easy to use, this book will becomea must-read for all board members, executive directors, and staffwho want to build an effective fundraising team.
About the Author
Julia Ingraham Walker has been active in fundraising in New Orleans and the surrounding region for over twenty-five years. She served as vice president for advancement at Tulane University, where she directed a successful $250 million campaign. For the past twelve years, Julia has worked as an independent fundraising consultant on a regional and national basis. While her specialty has been consulting on capital campaigns, she became very active in a variety of rebuilding efforts in the calamitous post-Katrina period in New Orleans. Her clients include a diverse array of local, regional, and national nonprofits, including independent schools, charter schools, animal welfare organizations, museums, parks, and arts and cultural organizations. She was named New Orleans Outstanding Fundraising Executive by the Association of Fundraising Professionals for her work at Tulane and is the author of three other books published by Wiley. Julia's ongoing work with numerous nonprofit boards inspired her to write this guide for board members.
or
Not Currently Available for Direct Purchase