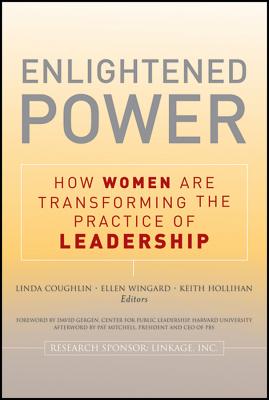 Enlightened Power (Paperback)
How Women Are Transforming the Practice of Leadership
Jossey-Bass, 9781118085875, 572pp.
Publication Date: August 12, 2013
* Individual store prices may vary.
Description
How are women transforming the practice of leadership in the21st century?
Enlightened Power
is afirst-of-a-kind book that answers this question--and foreverchanges the traditional notions involving women inleadership. The book features the accumulated wisdom of 40influential men and women who represent the most compelling voicesin the field, including:
Dynamic business leaders such as Eileen Fisher (founder, Eileen Fisher, Inc.), Barbara Corcoran (founder and chairman, TheCorcoran Group), and Pat Mitchell (president and CEO, PBS)
Trailblazing women from other arenas such as politics(Ambassador Swanee Hunt), the military (Rear Admiral Deborah A.Loewer, USN), and sports (U.S. Olympian Marilyn King)
Renowned thought leaders such as Riane Eisler, RayonaSharpnack, Sally Helgesen, Peggy Klaus, Bruce Patton, Nancy J.Adler, and Gail Evans
Leading-edge academics, activists, executives, entrepreneurs, and practitioners
About the Author
Linda Coughlin is chief administrative officer of CendantCorporation in New York, New York, with more than 27 years ofexperience in corporate America. Ellen Wingard is an executive coach on the faculty of theInstitute for Women's Leadership in Redwood City, California.Keith Hollihan is a writer who coauthored thebest-selling Everybody Wins: The Story and Lessons BehindRE/MAX from John Wiley & Sons.