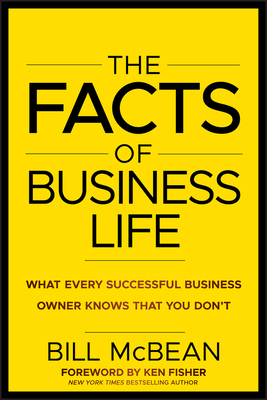 The Facts of Business Life (Hardcover)
What Every Successful Business Owner Knows That You Don't
Wiley, 9781118094969, 336pp.
Publication Date: October 9, 2012
* Individual store prices may vary.
Description
IF YOU BELIEVE THAT:
Being your own boss can be a great career choice
Success is what you decide it is
Doing what you have a passion and talent for can be veryprofitable
Monetary risk, hard work, and new ideas should be financiallyrewarded
Understanding the business basics every successful ownerfocuses on--and in what order--would be beneficial
Success works for you only after you've worked forit
Marketplace battles are won before they are played
Knowing what owning a business is really like would makeownership success a lot easier
Change can create great opportunities
Knowing when to exit a business is as important a life andbusiness decision as becoming an entrepreneur in the firstplace
THEN THE FACTS OF BUSINESS LIFE IS FOR YOU
Written by a successful business owner with four decades ofexperience, The Facts of Business Life is full of real-worldconcepts that owners must use and embrace if they want to becomeand stay successful. This multiple award-winning book has beenendorsed by some of America's top business leaders, likeSteve Forbes and Ken Fisher, and has been recognized as "oneof the best five business books of the year" and "amust read for entrepreneurs or those wanting to be one."
McBean begins with clear explanations and real-life examples ofthe seven Facts of Business Life that every successful businessowner knows and executes consistently, including exactly what theyare as well as how and when to use them. He then goes on to showhow those facts impact on the five levels every successful businesspasses through, from "Ownership and Opportunity" to"Moving On When It's Time to Go," explaining thatwhile the facts themselves remain the same, as a business becomessuccessful and moves through its life cycle, the way they areapplied must change to fit changing circumstances.
But there are even more reasons why this breakthrough businessbook is a must read, including:
Its principles are based on the author's own experiencein starting and running successful businesses in a variety ofindustries.
It shows that the most successful businesspeople createprofitable opportunities rather than wait for them to presentthemselves.
It enables readers to analyze the likelihood of their ownsuccess based on the characteristics most successful ownershave.
It reveals the #1 priority for all owners and their employees, and why every owner needs to continually focus on it (Hint: it's not being profitable).
It emphasizes that becoming successful is no guarantee thatsuccess will last, and that success itself can be a trap thateventually leads to failure.
It shows that a business's culture isn't just amission statement but also the processes created to operate thebusiness and the employees who implement them.
It discusses the steps that must be taken even before abusiness is started to increase the odds of its becoming a lastingsuccess.
It covers every step in a business' life cycle, includingthe last one, showing that the best time to exit a business is whenyou don't have to, and that unless you pick that time, someone else will.
MANY BUSINESS BOOKS INCREASE THEIR READERS'KNOWLEDGE--THE FACTS OF BUSINESS LIFE NOT ONLYINCREASES THAT KNOWLEDGE, IT SHOWS YOU HOW TO TURN IT INTOPROFITS.
About the Author
BILL McBean spent many of his nearly forty years as a successful business owner in the automobile industry where, among many other achievements, he purchased several underperforming dealerships and turned them into a successful business enterprise with yearly sales of more than $160 million. Since selling the company to the world's largest automotive retailer, AutoNation, McBean has been involved in several new businesses, including McBean Partners, an investment and business mentoring company, and Net Claims Now, which provides administrative services and support to the restoration industry.
or
Not Currently Available for Direct Purchase