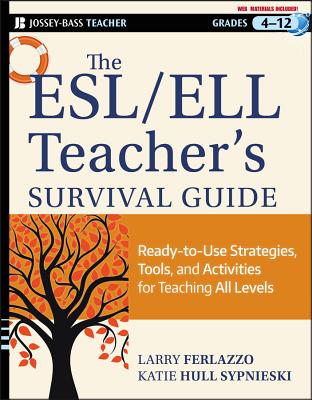 The ESL/ELL Teacher's Survival Guide, grades 4-12 (Paperback)
Ready-To-Use Strategies, Tools, and Activities for Teaching English Language Learners of All Levels (Jossey-Bass Teacher)
Jossey-Bass, 9781118095676, 322pp.
Publication Date: August 6, 2012
* Individual store prices may vary.
Description
A much-needed resource for teaching English to alllearners
The number of English language learners in U.S. schools isprojected to grow to twenty-five percent by 2025. Most teachershave English learners in their classrooms, from kindergartenthrough college. The ESL/ELL Teacher's Survival Guide offerseducators practical strategies for setting up an ESL-friendlyclassroom, motivating and interacting with students, communicatingwith parents of English learners, and navigating the challengesinherent in teaching ESL students.
Provides research-based instructional techniques which haveproven effective with English learners at all proficiencylevels

Offers thematic units complete with reproducible forms andworksheets, sample lesson plans, and sample studentassignments

The book's ESL lessons connect to core standards and technologyapplications
This hands-on resource will give all teachers at all levels theinformation they need to be effective ESL instructors.
About the Author
LARRY FERLAZZO is the author of "Larry Ferlazzo's Websites of the Day" (http: //larryferlazzo.edublogs.org), the popular blog for teachers of English Language Learners and one of the most popular education blogs for all teachers. He teaches English at Luther Burbank High School in Sacramento, California.KATIE HULL SYPNIESKI teaches English at Luther Burbank High School in Sacramento, California, serves as a teaching consultant with the Area 3 Writing Project at University of California, Davis, and is a lead trainer for the WRITE Institute (Writing Reform Institute for Teaching Excellence).