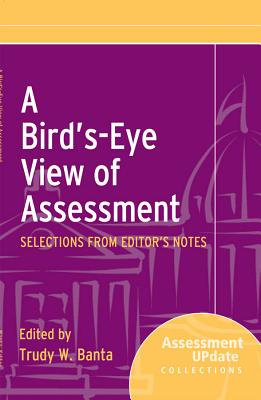 A Bird's-Eye View of Assessment: Selections from Editor's Notes (Paperback)
Selections from Editor's Notes
Jossey-Bass, 9781118099667, 96pp.
Publication Date: April 19, 2011
Description
Here, pioneer Trudy Banta illuminates the many facets of assessment in colleges and universities during the past two decades. Addressing the principles of good assessment practice, she gives an insider's perspective and shares the larger questions and answers encountered in assessment. In the final section, she looks at assessment outside the United States. This valuable publication will give you a broader, deeper appreciation of the successes, snares, and future of outcomes assessment.
About the Author
Trudy Banta, editor of Assessment Update since 1989, is a pioneer in outcomes assessment in higher education. She founded the Center for Assessment Research and Development at University of Tennessee, Knoxville, before moving to Indiana University-Purdue University Indianapolis. She is a professor and vice chancellor for planning and institutional improvement. She coordinates strategic planning for the campus, academic and administrative program review, the evaluation of student learning outcomes, and the assessment of institutional effectiveness.
Advertisement