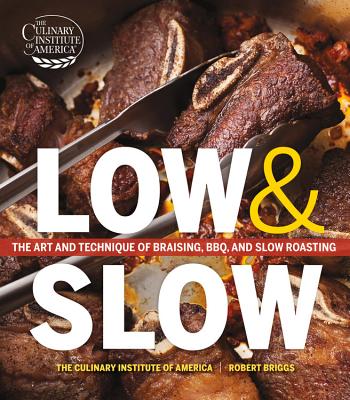 Low and Slow (Hardcover)
The Art and Technique of Braising, BBQ, and Slow Roasting
Houghton Mifflin Harcourt, 9781118105917, 256pp.
Publication Date: April 1, 2014
* Individual store prices may vary.
Description
Low & Slow is the book for anyone who's ready to go beyond grilling and master the craft of traditional barbecue. And not just barbecue, but braising and slow roasting, too—together the three pillars of low and slow cooking. With Low & Slow, you'll learn to apply the magic of low heat and long cooking times to transform tough cuts of meat into juicy, flavorful finished dishes. The pros at The Culinary Institute of America have packed all their expertise, along with mouthwatering color photographs, into a compact volume that's sure to become your go-to handbook for all things slow cooking. Low & Slow explains what you need to know to make the most of every cut of meat, any time of year, whether you're braising a pot of short ribs, barbecuing beef brisket in the backyard, or slow roasting lamb in the oven. Plus, with chapters on homemade rubs and sauces and enough sides to accompany every meal, if you're passionate about cooking meat, this may be the only cookbook you ever need.

About the Author
Founded in 1946, The Culinary Institute of America is the world's premier culinary college. Dedicated to driving leadership development for the foodservice and hospitality industry, the independent, not-for-profit CIA offers associate degrees in culinary arts and baking and pastry arts; bachelor's degree majors in management, culinary science, and applied food studies; and executive education through its Food Business School. Its conferences and consulting services have made the CIA the think tank of the food industry in the areas of health and wellness, sustainability, world cuisines and cultures, and professional excellence and innovation. The college also offers certificate programs and courses for professionals and enthusiasts. Its worldwide network of 48,000 alumni includes leaders in every area of foodservice and hospitality. The CIA has campuses in New York, California, Texas, and Singapore. For more information, visit www.ciachef.edu.
Robert Briggs was a longtime professor and administrator at The Culinary Institute of America and a barbecue enthusiast who, in addition to his many courses in the college's degree programs, taught the school's perennially popular Low and Slow adult education course. During his tenure at the CIA, he also oversaw two of the school's award-winning restaurants, The Escoffier Restaurant and St. Andrew's Café, and served as associate dean for advanced cooking and assistant director for continuing education. Before joining the faculty of the CIA, he held various chef positions in restaurants across the country.