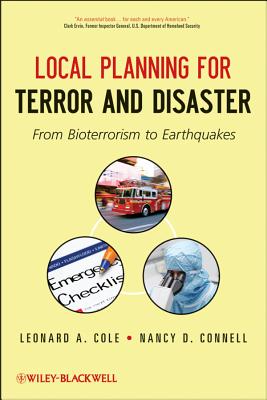 Local Planning for Terror and Disaster
From Bioterrorism to Earthquakes
Paperback

* Individual store prices may vary.
Description
Local Planning for Terror and Disaster
gives voice to experts in key fields involved with local preparedness, assessing the quality of preparedness in each field, and offering directions for improvement. Introductory chapters provide overviews of terror medicine, security and communications, which are indispensable to successful preparedness, while subsequent chapters concentrate on a particular field and how responders from that field communicate and interact with others during and after an event. Thus, a chapter by a physician discusses not only the doctor's role but how that role is, or should be, coordinated with emergency medical technicians and police. Similarly, chapters by law enforcement figures also review police responsibilities and interactions with nurses, EMTs, volunteers and other relevant responders.
Developed from topics at recent Symposia on Terror Medicine and Security, Local Planning also encompasses aspects of emergency and disaster medicine, as well as techniques for diagnosis, rescue, coordination and security that are distinctive to a terrorist attack. Each chapter also includes a case study that demonstrates preparedness, or lack thereof, for a real or hypothetical event, including lessons learned, next steps, and areas for improvement in this global era which increasingly calls for preparedness at a local level.
Wiley-Blackwell, 9781118112861, 274pp.
Publication Date: October 9, 2012
About the Author
Dr. Leonard Cole is an adjunct professor of political science at Rutgers University-Newark, NJ, and director of the Program on Terror Medicine and Security at UMDNJ's Center for BioDefense. He has published widely on terrorism-related subjects including chapters in two recent Wiley volumes: Suicide Terror and Bacillus Anthracis and Anthrax. His most recent books are The Anthrax Letters (revised edition, 2009) and Essentials of Terror Medicine (co-editor, 2009). A full list of works by Dr. Cole is available on his website www.leonardcole.com. Dr. Nancy Connell is professor of infectious disease at the Medical School of the University of Medicine and Dentistry of New Jersey. She is director of UMDNJ's Center for BioDefense, has authored numerous scientific articles, and has served on national and regional panels concerning biosecurity. Currently, she is a member of the National Academy of Sciences committee on the Review of the Scientific Approaches Used by the FBI During Its Investigation of the 2001 Anthrax Mailings.
or
Not Currently Available for Direct Purchase