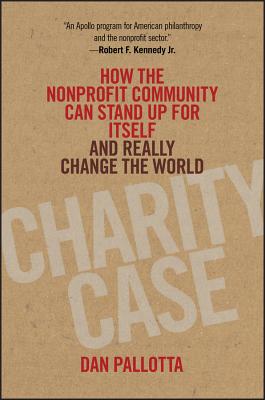 Charity Case (Hardcover)
How the Nonprofit Community Can Stand Up for Itself and Really Change the World
Jossey-Bass, 9781118117521, 256pp.
Publication Date: September 4, 2012
* Individual store prices may vary.
Description
A blueprint for a national leadership movement to transform theway the public thinks about giving
Virtually everything our society has been taught about charityis backwards. We deny the social sector the ability to grow becauseof our short-sighted demand that it send every short-term dollarinto direct services. Yet if the sector cannot grow, it can nevermatch the scale of our great social problems. In the face of thisdilemma, the sector has remained silent, defenseless, anddisorganized. In Charity Case, Pallotta proposes a visionarysolution: a Charity Defense Council to re-educate the public andgive charities the freedom they need to solve our most pressingsocial issues.

Proposes concrete steps for how a national Charity DefenseCouncil will transform the public understanding of the humanitariansector, including: building an anti-defamation league and legaldefense for the sector, creating a massive national ongoing adcampaign to upgrade public literacy about giving, and ultimatelyenacting a National Civil Rights Act for Charity and SocialEnterprise

From Dan Pallotta, renowned builder of social movements andinventor of the multi-day charity event industry (including theAIDS Rides and Breast Cancer 3-Days) that has cumulatively raisedover $1.1 billion for critical social causes

The hotly-anticipated follow-up to Pallotta'sgroundbreaking book Uncharitable
Grounded in Pallotta's clear vision and deep social sectorexperience, Charity Case is a fascinating wake-up call for fixingthe culture that thwarts our charities' ability to change theworld.

About the Author
Dan Pallotta is a builder of movements. He created the multi-day charitable fundraising event industry, including the AIDS Rides and Breast Cancer 3-Days, which raised $582 million in nine years and were the subject of a Harvard Business School case study. Multi-day charitable events have raised in excess of $1.1 billion to date. The Stanford Social Innovation Review said his groundbreaking 2009 book Uncharitable deserves to become "the nonprofit sector's new manifesto." He lives in Massachusetts.For more information, visit www.charitycasebook.com