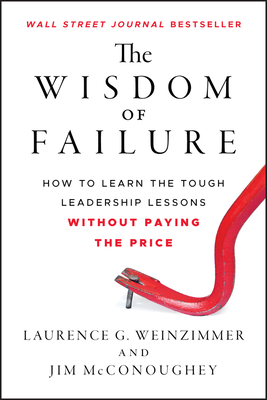 The Wisdom of Failure (Hardcover)
How to Learn the Tough Leadership Lessons Without Paying the Price
Jossey-Bass, 9781118135013, 282pp.
Publication Date: October 9, 2012
* Individual store prices may vary.
Description
The "how-not-to" leadership book
There is a paradox in leadership: we can only succeed by knowingfailure. Every accomplished leader knows there are minefields offailures that need to be navigated in order to succeed. Wouldn't itbe great to have the insights to help you prevent from makingavoidable mistakes? Unfortunately, in business talking aboutmistakes can be taboo, and, at a certain level, learning fromfailure is not an option. Weinzimmer and McConoughey speak franklyabout the things that are difficult to talk about - theunvarnished truths necessary to become a successful leader.
Based on a groundbreaking 7-year study of what almost 1000managers across 21 industries really think about lessons fromfailures
Includes exclusive interview material from CEOs at a wide rangeof organizations, including major firms such as Caterpillar, Priceline.com, and Allstate; startups; and entrepreneurial smallbusinesses
Drills down into failure to uncover the strategies thataspiring leaders need in order to avoid the most damning leadershipmistakes: unbalanced orchestration, drama management, and recklessvanity
Learning from the mistakes of others is a necessary part of thejourney of effective leadership, and this book offers anindispensable guide to learning these powerfullessons--without paying the price of failure.
About the Author
Laurence G. Weinzimmer is an endowed professor ofmanagement at Bradley University. He is an internationallyrecognized speaker and advisor to numerous Fortune 100 companies onissues relating to strategy and leadership. He is the author of thebestseller Fast Growth: How to Attain It, How to Sustain It.Jim McConoughey is an experienced CEO, sought-afterbusiness development and community leadership expert, and an activefund manager for venture and early-stage capital investments. Jim'sparticular focus is working with small to mid-size organizations toidentify and evaluate strategic growth opportunities. For moreinformation please visit www.TheWisdomofFailure.com
or
Not Currently Available for Direct Purchase