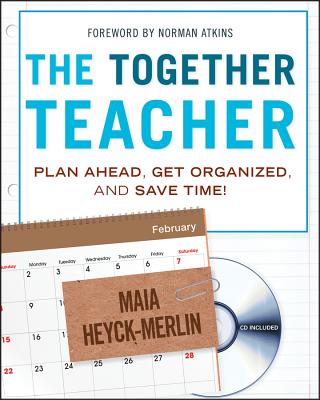 The Together Teacher (Paperback)
Plan Ahead, Get Organized, and Save Time! [With CDROM]
Jossey-Bass, 9781118138212, 336pp.
Publication Date: June 11, 2012
* Individual store prices may vary.
Description
An essential guide for over-scheduled teachers
Maia Heyck-Merlin helps teachers build the habits, customize thetools, and create space to become a Together Teacher. Thispractical resource shows teachers how to be effective and have alife Author and educator Maia Heyck-Merlin explores the key habitsof Together Teachers--how they plan ahead, organize work andtheir classrooms, and how they spend their limited free time. Theend goal is always strong outcomes for their students.
So what does Together, or Together Enough, look like? To someteachers it might mean neat filing systems. To others it might meanusing time efficiently to get more done in fewer minutes.Regardless, Together Teachers all rely on the same skills. In sixparts, the book clearly lays out these essential skills.Heyck-Merlin walks the reader through how to establish simple yetsuccessful organizational systems. There are concrete steps thatevery teacher can implement to achieve greater stability andsuccess in their classrooms and in their lives.
Contains templates and tutorials to create and customize apersonal organizational system and includes a companion website: www.thetogetherteacher.com
Recommends various electronic or online tools to make ateacher's school day (and life ) more efficient and productive
Includes a Reader's Guide, a great professional developmentresource; teachers will answer reflection questions, make notesabout habits, and select tools that best match individual needs andpreferences
Ebook customers can access CD contents online. Refer to thesection in the Table of Contents labeled, Download CD/DVD Content, for detailed instructions.
About the Author
Maia Heyck-Merlin spends the majority of her time designing and delivering training for busy teachers and school leaders around the country. Prior to this she was chief talent officer for Achievement First, a high-performing charter school management organization. Maia was a fourth- and fifth-grade teacher and she spent five years on the staff of Teach For America in a number of leadership roles. Please join Maia and the growing Together Teacher community at www.thetogetherteacher.com.