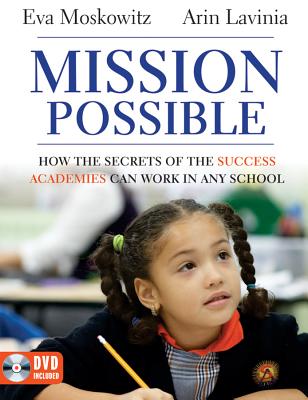 Mission Possible (Paperback)
How the Secrets of the Success Academies Can Work in Any School [With DVD ROM]
Jossey-Bass, 9781118167281, 166pp.
Publication Date: July 3, 2012
* Individual store prices may vary.
Description
Strategies for making the schools we need that work for all kids
Eva Moskowitz (the founder and CEO of the Success Charter Network in Harlem) and Arin Lavinia offer practical, classroom-tested ideas for dramatically improving teaching and learning. Moskowitz and Lavinia reveal how a charter school in the middle of Harlem, enrolling neighborhood children selected at random, emerged as one of the top schools in New York City and State within three years. The results of the Harlem school were on a par with public schools for gifted students and elite private schools.
Describes what can be accomplished when students and adults all work to focus on constant learning and performance improvement; DVD clips can be accessed using a special link included in the book.
The Success Academies have been featured in two popular and widely distributed documentaries, Waiting for Superman and The Lottery
Details the Success Academies' THINK Literacy curriculum, which produces dramatic results in student's reading and writing skills
In addition to providing strategies and lessons for school leaders and teachers, Secrets of the Success Academies also serves as a guide for parents, policymakers, and practitioners who are passionate about closing the academic achievement gap.
About the Author
Eva Moskowitz is the Founder and CEO of the Success Academy Charter Schools. A former New York City Council member, she has earned a national reputation as a fighter for improving public schools' rigor and resources, investing heavily in the arts, sports, and science instruction. Her first school, the Success Academy Harlem 1, quickly emerged as one of the top performing schools in New York State and was featured in The Lottery and Waiting for Superman. Arin Lavinia designed and developed THINK Literacy, a common sense approach to balanced literacy.