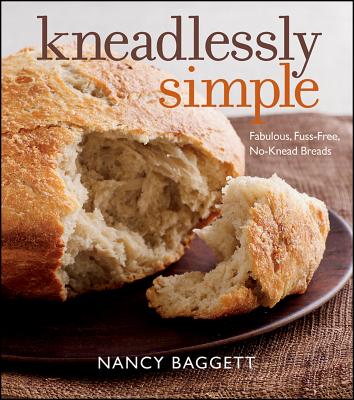 Kneadlessly Simple: Fabulous, Fuss-Free, No-Knead Breads (Paperback)
Fabulous, Fuss-Free, No-Knead Breads
Houghton Mifflin, 9781118169438, 210pp.
Publication Date: November 11, 2011
Description
The ultimate guide of super-simple no-knead bread recipes
For years, home cooks have shied away from baking their own yeast bread because they were intimidated by the mess, expertise, and kneading required. Now in paperback, Nancy Baggett's revolutionary "Kneadlessly Simple" lets even complete novices bake bread quickly and easily in their own homes, with no kneading and no mess.
Using the author's simple and effective technique, these recipes call for minimal ingredients and can usually be mixed in one bowl using a single spoon with amazingly good results. A wide variety of breads are provided, including Crusty Sourdough Boules, English Muffin Loaves, pizza dough (and companion sauce recipe), Caraway Beer Bread, and much more.
Perfect for inexperienced bakers and busy home cooks who don't have the time for kneading and kitchen clean-up yeast breads usually require, as well as budget-conscious consumers who love homemade artisan bread flavor, but not artisan bakery prices Author Nancy Baggett is the bestselling author of 13 cookbooks Includes 73 foolproof bread recipes for comfy classics like Cinnamon-Raisin Bread to contemporary favorites like Rosemary Focaccia
Nothing beats a loaf of fresh, warm-from-the-oven bread. "Kneadlessly Simple" lets even novice cooks create fragrant, full-flavored loaves without "any" specialized equipment, mess, or kneading.
About the Author
NANCY BAGGETT is a baking expert, food journalist, and bestselling cookbook author whose thirteen titles include the IACP Award-winning "International Chocolate Cookbook; The All-American Cookie Book"; a James Beard Foundation and IACP best baking book nominee, and The All-American Dessert Book. Her website is www.kitchenlane.com.
Advertisement