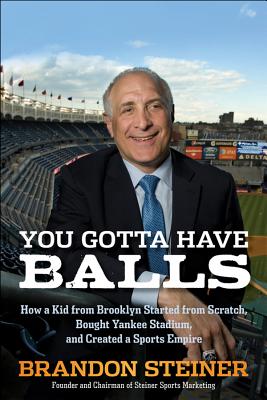 You Gotta Have Balls (Hardcover)
How a Kid from Brooklyn Started from Scratch, Bought Yankee Stadium, and Created a Sports Empire
Wiley, 9781118172070, 224pp.
Publication Date: September 19, 2012
Other Editions of This Title:
MP3 CD (1/24/2017)
* Individual store prices may vary.
Description
A Brooklyn kid hustles his way to the top of a sports marketingand memorabilia empire
Brandon Steiner went from a kid who sat in the nosebleed seatsat Yankee and Shea Stadiums to CEO of Steiner Sports MarketingInc., one of the largest sports marketing and memorabilia companiesin the United States, with an inventory of more than 10,000collectibles. You Gotta Have Balls details Steiner'smultiple entrepreneurial adventures, where he has both learned andtaught others his fair share of "rules." Along the way, hedeveloped some of the most innovative approaches tobusiness--methods that many of today's companies would be wiseto observe and employ themselves.
You Gotta Have Balls follows Steiner on his pathway tosuccess by demonstrating the business philosophies that allowed himto become the powerful magnate that he is. These idealsinclude:
First to market is everything
Ask "What Else?" when working with clients to enhancerelationships and elicit more business
Don't expand just for the sake of expanding; do it in areas andindustries where your passion lies
How to train employees while they're in the minor leagues toprepare them for the majors
Learn to clearly identify ways to help others rather than sellto them, to align employees and partners with their strengths, andto discover a path where you're most likely to succeed.
About the Author
BRANDON STEINER is the founder and chairman of SteinerSports Marketing and Memorabilia, the largest company of its kindin America. Considered a sports marketing guru, Brandon is apermanent fixture in the media as a regular on ESPN Radio 1050 andas co-host of Yankees-Steiner: Memories of the Game on theYES Network. He is also regularly featured on CNBC, CNN, MSNBC, ESPN, and in newspapers including the New York Times and theWall Street Journal. The author of The Business Playbook: Leadership Lessons from the World of Sports, Brandon lives inScarsdale, New York, with his wife, Mara.
or
Not Currently Available for Direct Purchase