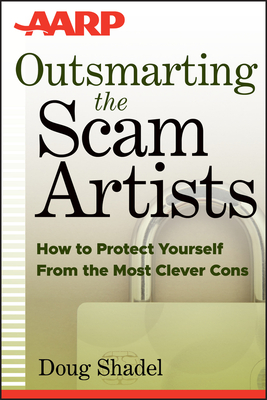 Outsmarting the Scam Artists (Paperback)
How to Protect Yourself from the Most Clever Cons
Wiley, 9781118173640, 191pp.
Publication Date: March 6, 2012
* Individual store prices may vary.
Description
A practical guide to avoiding the most common scams, from a fraud-fighting expert
U.S. consumers lose billions of dollars each year to scam artists--and the next victim could be you. While anyone can be targeted, many victims are older. In AARP's Outsmarting the Scam Artists, renowned fraud-fighter Doug Shadel offers practical advice for consumers who want to protect their money as well as the financial assets of their parents and families.
Despite the rise of scams, many people are embarrassed to admit they've been victimized. The author helps break the cycle of shame by including accounts from the people who've been scammed as well as tips from a surprising source: convicted con artists who reveal how they've defrauded people like you.
Get practical tips to combat all kinds of scams, from simple lottery tickets to non-existent oil and gas deals and religious ponzi schemes
Learn how to protect yourself by securing your mailbox and fraud-proofing your trash
Get inside the head of sophisticated scam artists to discover how you can become the type of individual they avoid
Scammers are everywhere. But with Outsmarting the Scam Artists in hand, you can protect yourself and your money.
About the Author
Doug Shadel (Seattle, Washington) is the Senior State Director of Washington's AARP, and a leading expert on fraud schemes and the elderly. He actively pursues researches fraud and recently co-led a three-year U.S. Department of Justice/AARP Foundation study. This effort was the first to document prevention strategies that dramatically reduce victimization. Dr. Shadel has been honored with a number of awards for distinction and service, including AARP's Agent for Social Change Award (2007), the Federal Law Enforcement Officer's Association Citizen's Award (2002), the FBI Director's Award for Exceptional Public Service (2000), and the California Department of Justice Citizen Award (2000).