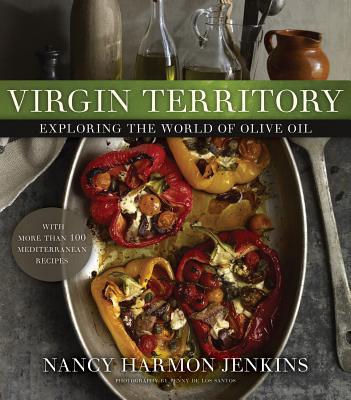 Virgin Territory
Exploring the World of Olive Oil
Hardcover

* Individual store prices may vary.
Description
An illuminating look at olive oil with 100 recipes from the country's leading authority on the subject  Olive oil is more popular than ever, thanks to its therapeutic and preventative effects in treating different diseases, as well as the growing variety of brands and imports available. Nancy Harmon Jenkins, arguably the leading authority on olive oil and the healthy Mediterranean diet, presents more than 100 dishes that showcase olive oil, ranging from soups to seafood to sauces to sweets. Along with favorites like tapenade and pesto, you'll find other exciting dishes like North African Seafood Tagine, Oven-Braised Artichokes with Potatoes and Onions, and Quince and Ginger Olive Oil Cake. But this book isn't just a collection of hearty and healthful recipes; Jenkins also covers the history and culture of olive oil as well as how to buy it and cook with it. A thing of beauty with the stunning photographs of exquisite dishes as well as Jenkin's own Tuscan olive tree grove, Virgin Territory captures the delights of making and cooking with olive oil.
Praise For Virgin Territory: Exploring the World of Olive Oil…
"In Virgin Territory, Nancy Harmon Jenkins makes a compelling case that our most important cooking medium–olive oil–is the one we know least about. She teaches us how to tell a great oil from a mediocre one, and why the difference matters--then clinches her point with exceptional recipes, from orange and red onion salad, to pasta with raw tomato and olive oil sauce, to salmorejo. This is the definitive book on olive oil, and one that should change the way you shop."
— Amanda Hesser, co-founder of Food52.com and author of The Essential New York Times Cookbook
 
"Virgin Territory is so essential because its subject is so well-colonized. Equal parts cookbook, autobiography, and culinary history, it's a compelling education in cooking's most essential oil."
— Dan Barber, chef and co-owner, Blue Hill and Blue Hill at Stone Barns
 
"This is the tasty and nutritious food for thought which olive oil enthusiasts have been hungering for. Jenkins draws on decades of experience in the Mediterranean to tell the people and places, the beauty and the uses of great oil – and the practicalities of choosing and using it. An invaluable guide to a luminous yet often murky world."
— Tom Mueller, author of the best-selling Extra Virginity
 
"Virgin Territory takes a deep dive into the history, culture, and taste of olive oil. Jenkins grows olives, harvests them, and cooks with her own oil. A terrific cook, she passionately wants everyone to know the difference a high quality extra-virgin olive oil can make to any dish. I learned so much about olive oil from this book and can't wait to try every one of her recipes."
— Marion Nestle, Professor of Nutrition, Food Studies, and Public Health at New York University and author of What to Eat
 
"I love this book! Nancy explains olive oil well, writing from vast and personal experience. She pokes holes in our cherished myths and is well qualified to do so, and of course, her recipes are always good to cook. Virgin Territory is smart, fun to read, and relevant--thank you Nancy, once again, for such good work."
— Deborah Madison, author of Vegetable Literacy and The New Vegetarian Cooking for Everyone
 
"Studying olive oil with Nancy Harmon Jenkins has profoundly influenced my cooking. I recommend her book to any food lover, professional or otherwise--Nancy's lessons and recipes will make anyone a better and healthier cook."
— Anita Lo, chef/owner, Annisa
 
"Olive oil may be the most important food in the Western cooking, and Nancy Jenkins is a rare expert. No one brings more love and knowledge to the subject with all its fascination and complexity. She is one of our finest writers, and she happens to be a talented cook."
— Ed Behr, editor and publisher of The Art of Eating
 
"In Virgin Territory Nancy Harmon Jenkins tells us about several of her "Olive Oil Gurus." Well, Nancy is now my olive oil guru. This is an eloquent book that has the bonus of also being a bit of a memoir as well as a cookbook filled with beloved, mostly Mediterranean, recipes. It will help us understand everything we didn't know, or thought we knew but really didn't, or that we might have thought was complicated about olive oil. Nancy tells us just what we need to know in the most understandable, forthright and personable fashion."
— Martha Rose Shulman, recipes for Health on nytimes.com and author, most recently, of The Simple Art of Vegetarian Cooking
 
"Nancy Harmon Jenkins takes a deep look at the complexities of a key component in Mediterranean cooking—extra-virgin olive oil--and draws on her years of experience to tell us what it's all about, why some is good, some is bad, how to know the difference, and, most importantly, with lots of appealing recipes, how to use this healthy ingredient in our kitchens and on our tables."
— Paula Wolfert, author of The Food of Morocco and many other books
 
"Nancy Harmon Jenkins is the leading American authority on olive oil. No doubt about it. She has been studying, writing, lecturing and guiding tours about olive oil for nearly 40 years. She even makes her own extra-virgin from the trees on her property in Tuscany. She, above all, knows that knowledgeable consumers are the key to more, better, genuine extra-virgin olive oil for us all. Virgin Territory is a much-needed, thorough and easy-reading education, from the sensory to the science. Plus olive-oil centric recipes! I couldn't ask for more."
— Arthur Schwartz, author of Naples At Table and The Southern Italian Table
Houghton Mifflin Harcourt, 9781118203224, 352pp.
Publication Date: February 10, 2015
About the Author
NANCY HARMON JENKINS has authored a number of books, including six cookbooks, as well as magazine and newspaper articles. She created AmorOlio, a program about olive oil in Italy, and is well known as an authority on Mediterranean cuisines and olive oil.