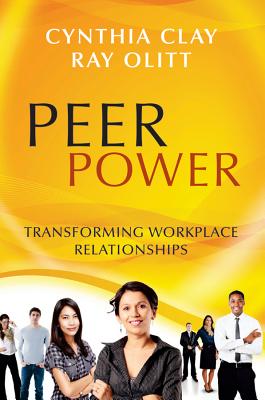 Peer Power (Paperback)
Transforming Workp
Jossey-Bass, 9781118205457, 289pp.
Publication Date: February 28, 2012
Other Editions of This Title:
Paperback (2/1/2011)
* Individual store prices may vary.
Description
Peer Power
"Peer Power is my pocket coach. Useful, insightful, andimmediately applicable, the book is a life saver in buildingbusiness relationships and resolving conflicts."
--Pamela J. Schmidt, executive director, ISA -The Association of Learning Providers
"Peer Power is a great resource, full of practicalsuggestions for employees, managers and leaders. Cynthia Clay andRay Olitt have gone beyond giving us the usual platitudes fordealing with difficult co-workers. Through a series of casestudies, they outline specific steps one can take to improverelationships across the board in a company or organization. Ihighly recommend Peer Power."
--Fred Allemann, national learning manager, UnitedStates Tennis Association
"If you are looking for a practical and engaging book to helpyou transform your interpersonal relationships, read PeerPower. You will find the key principles and strategies eyeopening, simple and powerful. The case studies will help you betterunderstand the dynamics of interpersonal relationships. The cheatsheets and worksheets throughout the book will help you diagnoseand devise your own solutions to refine and build yourinterpersonal relationships at home or at work."
--Ghenno Senbetta, learning team leader, US Pipelinesand Logistics, BP America, Inc.
"This book offers tools for improving interpersonalrelationships, with the improvement always starting 'at home.' Thecontent is presented for quick comprehension. Cynthia and Ray havegone to extraordinary lengths to deepen the readers' understandingof each concept and strategy with real life examples, along withquestionnaires at the end of each case chapter."
--Nancy Scholl, CFO, Wright Hotels, Inc.
About the Author
Cynthia Clay is the founder and president of NetSpeedLearning Solutions. Her career has centered on helping managers, teams and individuals work together more effectively. Ray Olitt consults with and coaches leaders in a varietyof for-profit and non-profit organizations.
or
Not Currently Available for Direct Purchase