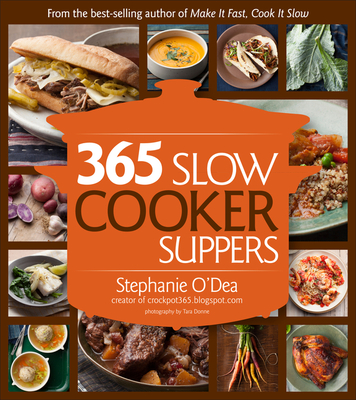 365 Slow Cooker Suppers (Paperback)
Houghton Mifflin, 9781118230817, 336pp.
Publication Date: September 24, 2013
* Individual store prices may vary.
Description
Slow cooker fans love their devices becausethey are easyto use andallowhome cooksto buy affordable cuts of meatthatbecome fall-off-the-bone tender. The challenge is finding well-tested recipes, and that's where best-selling author Stephanie O Dea comes in, with her wildly popular website (crockpot365.blogspot.com)that attracts more than a million visitors a month. In addition, O Dea has made numerous nationalmorning show appearances, including on Good Morning America.Fans have beenclamoring for a new cookbook, and this one ties directly to her website with 365 recipes. Every recipe is written with gluten-free options, so there is a large secondary audience for this book. Full-color photography will further entice slow cooker enthusiasts, making this a must-have collection.
About the Author
Stephanie O Dea is the New York Times best-selling author of Make It Fast, Cook It Slow and an award-winning blogger who has been featured on Rachael Ray and Good Morning America. Her popular website is crockpot365.blogspot.com, and she lives in the San Francisco Bay area."