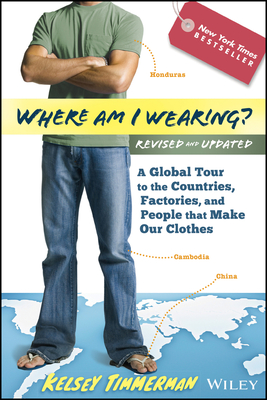 Where Am I Wearing? (Paperback)
A Global Tour to the Countries, Factories, and People That Make Our Clothes (Where Am I?)
Wiley, 9781118277553, 287pp.
Publication Date: April 24, 2012
* Individual store prices may vary.
Description
A journalist travels the world to trace the origins of ourclothes
When journalist and traveler Kelsey Timmerman wanted to knowwhere his clothes came from and who made them, he began a journeythat would take him from Honduras to Bangladesh to Cambodia toChina and back again. Where Am I Wearing? intimatelydescribes the connection between impoverished garment workers'standards of living and the all-American material lifestyle. Byintroducing readers to the human element of globalization--thefactory workers, their names, their families, and their way oflife--Where Am I Wearing bridges the gap between globalproducers and consumers.
New content includes: a visit to a fair trade Ethiopian shoefactory that is changing lives one job at time; updates on howworkers worldwide have been squeezed by rising food costs anddeclining orders in the wake of the global financial crisis; andthe author's search for the garment worker in Honduras who inspiredthe first edition of the book
Kelsey Timmerman speaks and universities around the country andmaintains a blog at www.whereamiwearing.com. His writing hasappeared in the Christian Science Monitor and Cond Nast Portfolio, and has aired on NPR.
Enlightening and thought-provoking at once, Where Am IWearing? puts a human face on globalization.
About the Author
KELSEY TIMMERMAN is a freelance journalist and public speaker. He's spent the night in Castle Dracula in Romania, gone undercover as an underwear buyer in Bangladesh, and taught an island village to play baseball in Honduras. His writing has appeared in publications such as the Christian Science Monitor and has aired on NPR.