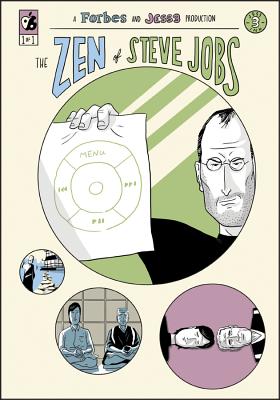 Zen of Steve Jobs
Paperback

* Individual store prices may vary.
Description
An illustrated depiction of Steve Jobs' friendship with Zen Buddhist Kobun Chino Otogawa and the impact it had on Jobs' career
Apple cofounder Steve Jobs (1955-2011) had such an enormous impact on so many people that his life often took on aspects of myth. But much of his success was due to collaboration with designers, engineers and thinkers. The Zen of Steve Jobs tells the story of Jobs' relationship with one such person: Kobun Chino Otogawa.
Kobun was a Zen Buddhist priest who emigrated to the U.S. from Japan in the early 1970s. He was an innovator, lacked appreciation for rules and was passionate about art and design. Kobun was to Buddhism as Jobs was to the computer business: a renegade and maverick. It wasn't long before the two became friends--a relationship that was not built to last.
This graphic book is a reimagining of that friendship. The story moves back and forward in time, from the 1970s to 2011, but centers on the period after Jobs' exile from Apple in 1985 when he took up intensive study with Kobun. Their time together was integral to the big leaps that Apple took later on with its product design and business strategy.
Told using stripped down dialogue and bold calligraphic panels, The Zen of Steve Jobs explores how Jobs might have honed his design aesthetic via Eastern religion before choosing to identify only what he needs and leave the rest behind.
Wiley, 9781118295267, 80pp.
Publication Date: January 3, 2012
About the Author
CALEB MELBY is a Forbes contributor and a native of Mankato, Minnesota, a town known as the site of the nation's largest mass hanging. It is otherwise a very nice place. Prior to writing The Zen of Steve Jobs, Caleb wrote for the Chicago Tribune and the Times of South Africa. He currently lives in a variety of places with no wives and no children. Since its founding in 1917, FORBES has been providing insights and information that ensure the success of those who are dedicated to the spirit of free enterprise. Its flagship publications, Forbes and Forbes Asia, reach a worldwide audience of more than 6 million readers and its website, Forbes.com--the leading business site on the Web--attracts an audience that averages more than 21 million people per month. Forbes also publishes ForbesLife magazine and licensed editions in more than 18 countries around the world. JESS3 is a world-renowned creative agency that specializes in data visualization. Through the mastery of illustration, information design, animation, and engineering, JESS3 brings beauty to complex concepts, issues, and data sets. In addition to working with Forbes on The Zen of Steve Jobs, JESS3 is dedicated to the craft of storytelling for vanguard brands that include Google, Nike, Intel, MTV, Twitter, Samsung, Facebook, and NASA. JESS3 also has a dedicated labs division, which funds and launches its own products and initiatives.