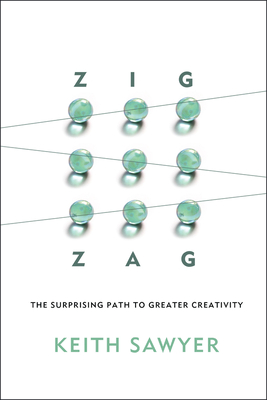 Zig Zag (Hardcover)
The Surprising Path to Greater Creativity
Jossey-Bass, 9781118297704, 288pp.
Publication Date: March 18, 2013
* Individual store prices may vary.
Description
A science-backed method to maximize creative potential in anysphere of life
With the prevalence of computer technology and outsourcing, newjobs and fulfilling lives will rely heavily on creativity andinnovation. Keith Sawyer draws from his expansive research of thecreative journey, exceptional creators, creative abilities, andworld-changing innovations to create an accessible, eight-stepprogram to increasing anyone's creative potential. Sawyer revealsthe surprising secrets of highly creative people (such as learningto ask better questions when faced with a problem), demonstrateshow to come up with better ideas, and explains how to carry thoseideas to fruition most effectively.
This science-backed, step-by step method can maximize ourcreative potential in any sphere of life.
Offers a proven method for developing new ideas and creativeproblem-solving no matter what your profession
Includes an eight-step method, 30 practices, and more than 100techniques that can be launched at any point in a creativejourney
Psychologist, jazz pianist, and author Keith Sawyer studiedwith world-famous creativity expert Mihaly Csikszentmihalyi
Sawyer's book offers a wealth of easy to apply strategies andideas for anyone who wants to tap into their creative power.
About the Author
Keith Sawyer, PhD, is associate professor of psychology, education, and business at Washington University in St. Louis. Anaccomplished jazz pianist and former video game designer for Atari, he has published widely on the topics of collaboration andcreativity. His book Group Genius won awards from Library Journaland (800) CEO-READ and has been translated into many languages. Heis the proud owner of a collection of vintage Grateful Dead bootlegtapes, his childhood piano teacher's old (but working) accordion, and a 1982 BMW motorcycle (also working). To learn more, visitkeithsawyer.com.