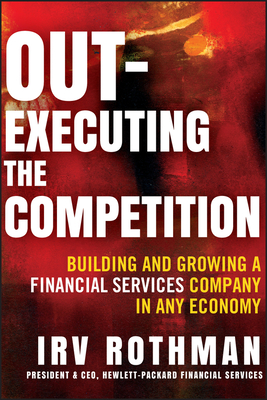 Out-Executing the Competition (Hardcover)
Building and Growing a Financial Services Company in Any Economy
Wiley, 9781118312612, 222pp.
Publication Date: July 31, 2012
* Individual store prices may vary.
Description
An inside look at what makes a successful financial servicescompany
Irv Rothman may not have considered a career in the financialservices early on, but he ended up in leadership positions atAT&T, Compaq and, for over a decade, Hewlett-Packard. Hisconsistent record of success and insider perspective make him theperfect guide to the art of building and growing a financialservices company, and in Out-Executing the Competition heshares his remarkable story and years of experience, giving readersa glimpse into his numerous accomplishments and providing takeawaysthey can apply to their own companies, whatever the industry.
An engaging and lively account of Rothman's career focusing onhis work at financial services companies during some of the mosteconomically challenging periods of the past thirty years, the bookexplores the methods and tactics he used to help his companies notonly weather financial uncertainty, but to thrive.
Tells the story of financial services company expert IrvRothman, in his own words
Includes invaluable insights into how to build a financialservices company that can survive and thrive in even the toughesteconomic climate
Helps readers working at financial services companies and inother industries to construct solid businesses that can outperformtheir competition
Part biography, part how-to guide, Out-Executing theCompetition is the ultimate inside look at building a financialservices company that's sure to succeed.
About the Author
Irv Rothman is President and CEO of HP FinancialServices, a wholly owned subsidiary of Hewlett-Packard Company, where he is responsible for the worldwide delivery of customizedleasing, financing, and financial asset management solutions thatsimplify customers' IT life-cycle management and reduce their totalcost of ownership. Prior to joining HP, Rothman was president andCEO of Compaq Financial Services Corporation (CFS) and a grouppresident of AT&T Capital Corporation.
or
Not Currently Available for Direct Purchase