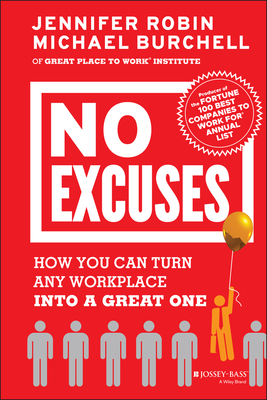 No Excuses (Hardcover)
How You Can Turn Any Workplace Into a Great One
Jossey-Bass, 9781118352427, 215pp.
Publication Date: September 10, 2013
* Individual store prices may vary.
Description
The business leader's guide to creating a great workplace from the Great Place to Work Institute
In this follow-up guide to The Great Workplace, experts from Great Place to Work(R) Institute, Inc. reveal the most common excuses managers use for why they can't create a great workplace. Authors Jennifer Robin and Michael Burchell poke holes in every single excuse. Whether the reasons involve the organization's leadership, employees, environment, or any other factor, the authors explain that if managers lead people properly, they can create a great workplace. The authors explore how managers can interrupt their own negative thought patterns and instead create lasting change, and they describe how great workplaces have surmounted very real difficulties with aplomb.
Includes case studies, stories, tips, and tools for managers who want to transform their organizations
From the experts at the Great Place to Work, a global research, consulting, and training firm that operates in nearly 50 countries
Proves that any and every organization can change for the better when managers have the right tools and mindset
Creating a place where people want to work and want to succeed is the primary key to success for every manager. No Excuses shows that managers in any organization can transform their workplace--if they'll only get out of their own way first.
About the Author
JENNIFER ROBIN, Ph.D., is a research fellow at Great Place to Work(R) Institute. A former consultant with the Institute, she led the Advisory Practice, helping senior leaders integrate their organization's culture with its strategy and aligning efforts to be a great workplace. Currently, Jennifer teaches in undergraduate, MBA, and professional programs in the Foster College of Business at Bradley University. She lives in Peoria, Illinois. MICHAEL BURCHELL, Ed.D., is vice president, International Operations at Great Place to Work(R) Institute, Inc. A member of the corporate management team, Michael oversees affiliate operations, global expansion efforts, and the business development of multinational clients across the Great Place to Work network. Previously, Michael led consulting services for the Institute in the United States. He also co-owns and is a director for Great Place to Work(R) Institute in the United Arab Emirates, in Dubai. He is based in Washington, D.C.
or
Not Currently Available for Direct Purchase