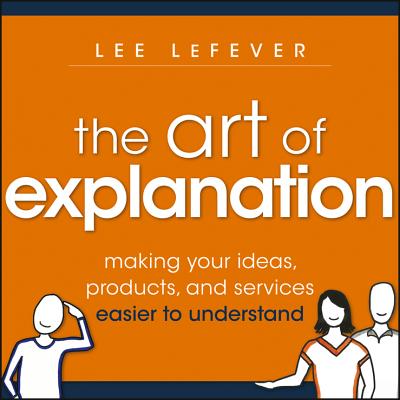 The Art of Explanation (Paperback)
Making Your Ideas, Products, and Services Easier to Understand
Wiley, 9781118374580, 256pp.
Publication Date: October 12, 2012
* Individual store prices may vary.
Description
Your guide to becoming an explanation specialist.
You've done the hard work. Your product or service worksbeautifully - but something is missing. People just don't seethe big idea - and it's keeping you from being successful. Youridea has an explanation problem.
The Art of Explanation is for business people, educatorsand influencers who want to improve their explanation skills andstart solving explanation problems.
Author Lee LeFever is the founder of Common Craft, a companyknown around the world for making complex ideas easy to understandthrough short animated videos. He is your guide to helpingaudiences fall in love with your ideas, products or servicesthrough better explanations in any medium.
You will learn to:
Plan: Learn explanation basics, what causes them to fail andhow to diagnose explanation problems.
Package: Using simple elements, create an explanation strategythat builds confidence and motivates your audience.
Present: Produce remarkable explanations with visuals andmedia.
The Art of Explanation is your invitation to become anexplanation specialist and see why explanation is now a fundamentalskill for professionals.
About the Author
LEE LeFEVER is the Chief Explainer, illustrator, andvoice of Common Craft, and is widely credited for inspiring thevideo explanation industry. Since 2007, the company has wonnumerous awards and has created explanations for the world's mostrespected brands, including Intel, Google, Dropbox, and Ford. Itsonline videos have been viewed more than 50 million times. Today, Common Craft's mission is to make the world a more understandableplace to live and work by inspiring and equipping professionals tobecome explanation specialists.Lee can be found in Seattle, Washington, with his wife and businesspartner, Sachi, and their dog, Bosco, a fine swimmer.