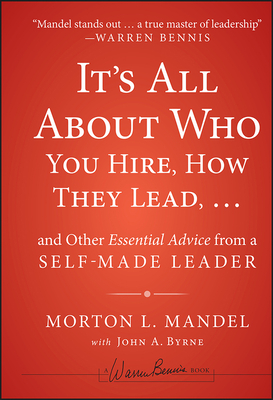 It's All about Who You Hire, How They Lead... and Other Essential Advice from a Self-Made Leader (Hardcover)
Jossey-Bass, 9781118379882, 194pp.
Publication Date: November 28, 2012
* Individual store prices may vary.
Description
American business leader, entrepreneur, and noted philanthropist Morton Mandel shares lessons he gleaned from co-founding and leading, along with his brothers Jack and Joe, Premier Industrial Corporation, a major industrial parts and electronic components manufacturer and distributor. Now for readers everywhere who are interested in studying leadership development, It's All About Who describes Mandel's approach to finding, recruiting and cultivating "A" players.
In his book, Mandel shares his fine-tuned set of practices to develop leaders that have proven to deliver dramatically better results. Containing sixteen core sections, "It's All About Who" covers key strategic topics from "Building a Rich, Deep, and Ethical Culture" to "Killing Yourself for Your Customer" to "Using Business Ideas in the Social Sector."
What makes Mandel unique is his selflessness in pursuing a life of purpose. Mandel has lived in two worlds: the world of profit and the world of social impact. Even as chairman and CEO of a New York Stock Exchange company for more than three decades, he spent as much as a third of his time in the social sector.
Mandel has personally founded more than a dozen non-profit organizations. His deep-seated passion is evident in the mission of his Foundation: "To invest in people with the values, ability and passion to change the world."
About the Author
Morton Mandel is a self-made billionaire, entrepreneurand philanthropist. With his brothers, Jack and Joseph, hecofounded Premier Industrial Corporation in 1940, eventuallymerging it with Farnell Electronics in a $3 billion transaction.The brothers established the Jack, Joseph and Morton MandelFoundation, which funds numerous social leadership initiatives allover the world.Mort was named by Peter Drucker as one of three impressive CEOsalongside Jack Welch and Andy Grove. He learned how to startand build enduring institutions from the ground up. Hisfinancial success and passion allowed him to partner withnon-profits of all kinds with a laser-like focus on developingprofessional leadership, able to truly transform people'slives. He has personally founded more than a dozen non-profitorganizations. His deep-seated passion is evident in themission of his Foundation: "To invest in people withthe values, ability, and passion to change theworld." Mort has fine-tuned a set of practices that have been proven todeliver dramatically better results. In his book, It's All About Who..., he shows how important itis to find, recruit, and cultivate "A" players forleadership roles. This can lead to better strategies, betterexecution, and greater client satisfaction. Further, hebelieves that personal values matter - honesty, decency, respect, and generosity are essential elements in a life worthliving.John A. Byrne, the former executive editor ofBusinessWeek and editor in chief of Fast Companymagazine, is the author or coauthor of ten other business books, including two New York Times best sellers. With legendaryGeneral Electric Co. CEO Jack Welch, he wrote Jack: Straightfrom the Gut, one of the most successful business books inhistory.