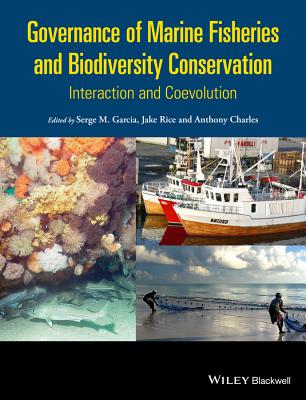 Governance of Marine Fisheries and Biodiversity Conservation (Hardcover)
Interaction and Co-Evolution
Wiley-Blackwell, 9781118392645, 552pp.
Publication Date: September 15, 2014
* Individual store prices may vary.
About the Author
Serge M. Garcia is the former Research Director of theFrench Institute of Research for Development (IRD) and formerDirector of the FAO Fisheries Management Division. Now retired, hechairs the Fisheries Expert Group of the IUCN Commission onEcosystem Management (IUCN-CEM-FEG) established under thecoordination of the European Bureau of Conservation and Development(EBCD).Jake Rice is Chief Scientist, Department of Fisheries andOceans, Government of Canada (DFO) and senior Canadian scienceadvisor on international marine conservation and sustainable usepolicy. He has over 250 scientific and technical publications, in32 years in the Science sector of DFO. He has been active asa scientific expert and in delegations to CBD, FAO, IPCC andvarious UN working groups. He is the vice chair ofIUCN-CEM-FEG.Anthony Charles is Director of the School of the Environmentand Professor in the School of Business at Saint Mary'sUniversity (Halifax, Canada). He is a Pew Fellow in MarineConservation, and leads the international Community ConservationResearch Network. His work focuses on marine resource management, economics and policy, coastal communities and small-scalefisheries. He is an active member of the IUCN-CEM-FEG.
or
Not Currently Available for Direct Purchase