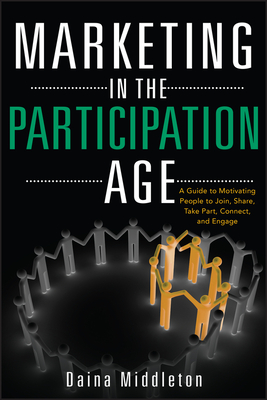 Marketing in the Participation Age (Hardcover)
A Guide to Motivating People to Join, Share, Take Part, Connect, and Engage
Wiley, 9781118402306, 205pp.
Publication Date: November 15, 2012
* Individual store prices may vary.
Description
Turn intrinsic human desires into your most powerful marketingtool. Marketing in the Participation Age shows youhow to rethink marketing. Transform consumers into activeparticipants for your brand by capturing their interest, empoweringthem to contribute, and developing meaningful relationships thatkeep them involved. Learn how to create a marketing environmentthat fulfills your customers' desire to seek challenges anddiscover new things--and watch their participation yieldgreater revenues for your business.
"Marketing is constantly evolving. Companies can't compete byusing the same old, tired tools. This book provides freshinspiration, with a new framework for doing thingsdifferently."
--Sally Hogshead, author of Fascinate;inductee into the CPAE Speaker Hall of Fame
"Participant marketing transformed the way we did business inthe marketplace as an agency and provided a framework for doingbusiness with clients that added unique value to their marketingefforts."
--Kris Pinto, founder of Moxie Interactive
About the Author
DAINA MIDDLETON is a pioneer in the digital marketing space, a marketing professional with more than twenty years in the industry, working in both the client and agency environments. She is the global CEO of Performics, the performance marketing division of Publicis Groupe and one of the largest and oldest search and performance media agencies. She regularly speaks and appears at industry events, including ad: tech, WOMMA, VideoNuze, and iMedia, to name a few.
or
Not Currently Available for Direct Purchase