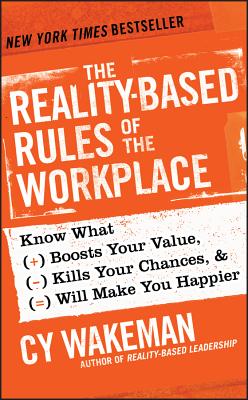 The Reality-Based Rules of the Workplace: Know What Boosts Your Value, Kills Your Chances, & Will Make You Happier (Hardcover)
Know What Boosts Your Value, Kills Your Chances, & Will Make You Happier
Jossey-Bass, 9781118413685, 190pp.
Publication Date: April 30, 2013
Description
The key to understanding how your manager calculates your real value--and how to boost it
More than anything else, you need to understand exactly how your employer evaluates you, and your annual performance review doesn't tell the whole story. In The Reality-Based Rules of the Workplace, Cy Wakeman shows how to calculate how your true value to your organization by understanding your current and future potential against your "emotional expense"--the toll your actions and attitudes take on the people around you. With Cy's clear, straight-to-the-point advice, you can confront and reduce your emotional costliness, become an invaluable member of your team, and even learn to love your job again.
Reveals a formula for measuring your current performance, future potential, and the biggest detractor, your emotional expense
Shares real-world advice for quickly boosting your value and becoming a highly-valued, sought after employee and teammate
Builds on the lessons in Reality-Based Leadership, Cy Wakeman's first book for leaders and managers
The Reality-Based Rules of the Workplace is the essential guide for boosting your value, owning your career, and becoming the kind of employee no organization can afford to lose.
About the Author
CY WAKEMAN is a dynamic speaker, business consultant, author, and trainer. Her first book, Reality-Based Leadership, is a straightforward and practical guide for leaders who want to reduce office drama and improve personal accountability with their teams. She holds a Certified Speaking Professional (CSP) designation from the National Speakers' Association and received the 2012 Outstanding Leadership Award from the World HRD Congress in Mumbai. For more information, please visit www.cywakeman.com.
Advertisement