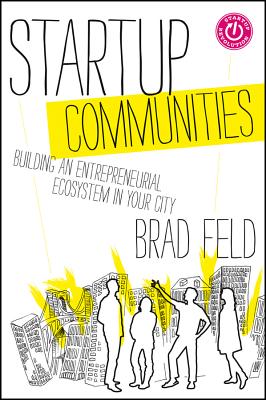 Startup Communities (Hardcover)
Building an Entrepreneurial Ecosystem in Your City
Wiley, 9781118441541, 202pp.
Publication Date: October 9, 2012
* Individual store prices may vary.
Description
An essential guide to building supportive entrepreneurialcommunities
"Startup communities" are popping up everywhere, from citieslike Boulder to Boston and even in countries such as Iceland. Thesetypes of entrepreneurial ecosystems are driving innovation andsmall business energy. Startup Communities documents thebuzz, strategy, long-term perspective, and dynamics of buildingcommunities of entrepreneurs who can feed off of each other'stalent, creativity, and support.
Based on more than twenty years of Boulder-based entrepreneurturned-venture capitalist Brad Feld's experience in the field?aswell as contributions from other innovative startupcommunities?this reliable resource skillfully explores what ittakes to create an entrepreneurial community in any city, at anytime. Along the way, it offers valuable insights into increasingthe breadth and depth of the entrepreneurial ecosystem bymultiplying connections among entrepreneurs and mentors, improvingaccess to entrepreneurial education, and much more.
Details the four critical principles needed to form asustainable startup community
Perfect for entrepreneurs and venture capitalists seeking freshideas and new opportunities
Written by Brad Feld, a thought-leader in this field who hasbeen an early-stage investor and successful entrepreneur for morethan twenty years
Engaging and informative, this practical guide not only showsyou how startup communities work, but it also shows you how to makethem work anywhere in the world.
About the Author
Brad Feld has been an early-stage investor andentrepreneur for over twenty years. Prior to cofounding FoundryGroup--a Boulder, Colorado-based early-stage venturecapital fund that invests in information technology companies allover the United States--he cofounded Mobius Venture Capitaland, prior to that, founded Intensity Ventures, a company thathelped launch and operate software companies. Feld is also acofounder of TechStars and has been active with several nonprofitorganizations. He is a nationally recognized speaker on the topicsof venture capital investing and entrepreneurship.