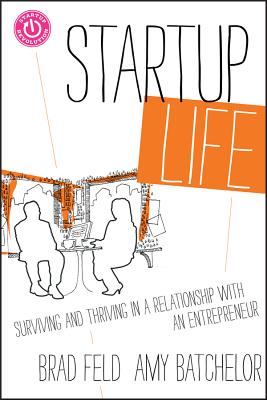 Startup Life (Hardcover)
Surviving and Thriving in a Relationship with an Entrepreneur (Startup Revolution)
Wiley, 9781118443644, 224pp.
Publication Date: January 14, 2013
* Individual store prices may vary.
Description
Real life insights on what it takes to make it in a relationshipwith an entrepreneur
Entrepreneurs are always on the go, looking for the next"startup" challenge. And while they lead very intensely rewardinglives, time is always short and relationships are oftenlong-distant and stressed because of extended periods apart. Copingwith these, and other obstacles, are critical if an entrepreneurand their partner intend on staying together--and stayinghappy.
In Startup Life, Brad Feld--a Boulder, Colorado-based entrepreneur turned-venture capitalist--shareshis own personal experiences with his wife Amy, offering a seriesof rich insights into successfully leading a balanced life as ahuman being who wants to play as hard as he works and who wants tobe as fulfilled in life and in work. With this book, Feld distillshis twenty years of experience in this field to addresses how thevillage of startup people can put aside their workaholic ways andlead rewarding lives in all respects.
Includes real-life examples of entrepreneurial couples who havehad successful relationships and what works for them
Provides practical advice for adapting to change and overcomingthe inevitable ups and downs associated with the entrepreneuriallifestyle
Written by Brad Feld, a thought-leader in this field who hasbeen an early-stage investor and successful entrepreneur for morethan twenty years
While there's no "secret formula" to relationship success in theworld of the entrepreneur, there are ways to making navigation ofthis territory easier. Startup Life is a well-rounded guidethat has the insights and advice you need to succeed in both yourpersonal and business life.
About the Author
BRAD FELD has been an early-stage investor and entrepreneur for over twenty years. Prior to cofounding Foundry Group--a Boulder, Colorado-based early-stage venture capital fund that invests in information technology companies all over the United States--he cofounded Mobius Venture Capital and, prior to that, founded Intensity Ventures, a company that helped launch and operate software companies. Feld is also a cofounder of TechStars and has been active with several nonprofit organizations. He is a nationally recognized speaker on the topics of venture capital investing and entrepreneurship.AMY BATCHELOR is a Managing Director of the Anchor Point Fund, which makes grants to nonprofit organizations in the arts, education, entrepreneurship, conservation and the environment, health and human services, women's and human rights, international development, capacity building, and progressive public policy. She is a cofounder and partner of Social Venture Partners Boulder County and currently serves on the Board of Trustees at Wellesley College. She blogs at http: //anchorpoint.blogs.com/ and can be found on Twitter (@abatchelor) and Facebook (amy.batchelor). She is working on two novels, The North Side of Trees and Epicenter, about the 1964 Alaska earthquake. Batchelor graduated from Wellesley College in 1988 with a BA in political philosophy. She lives in Boulder, Colorado, and has homes in Keystone, Colorado, and Homer, Alaska, where she was born. Batchelor travels extensively and has spent time on every continent except Antarctica.