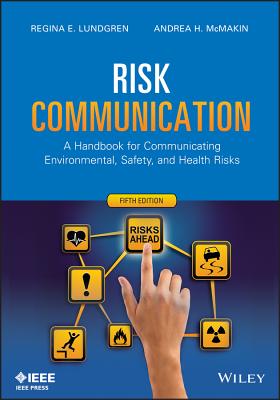 Risk Communication (Paperback)
A Handbook for Communicating Environmental, Safety, and Health Risks
Wiley-IEEE Press, 9781118456934, 416pp.
Publication Date: July 29, 2013
* Individual store prices may vary.
or
Not Currently Available for Direct Purchase
Description
A fully updated handbook on effectively communicating environmental, safety, and health risks
Written by two well-known risk practitioners with over twenty-five years' experience in the field, this fully updated Fifth Edition of Risk Communication: A Handbook for Communicating Environmental, Safety, and Health Risks offers sound, scientific research with practical, hands-on advice for those in the public and private sectors.
Highly accessible and easy to understand, this must-read includes real-life examples of such headline-making events as the tsunami and radiation release in Japan in 2011, the BP oil disaster in the Gulf of Mexico in 2010, and extreme weather events, along with the lessons learned from them. It offers new chapters on public health campaigns, and on the use and effectiveness of social media for risk communication purposes.
Risk Communication is divided into five self-contained parts:
Part I provides background information for understanding the basic theories and practices of risk communication
Part II explains how to plan a risk communication effort
Part III describes how to put risk communication into action
Part IV discusses how to evaluate risk communication efforts, including techniques for measuring success
Part V highlights special cases in risk communication, including disasters and other emergencies, international risk communication, and public health campaigns
An ideal introduction to the field, this book is also a welcome reference for those involved in communicating environmental, safety, and health risks in government, industry, and academia.
About the Author
REGINA E. LUNDGREN is an independent consultant and trainer for both government and industry who specializes in communicating environmental, safety, and health risks, and is a former research scientist for the Pacific Northwest National Laboratory in Richland, Washington. Her publications have won national awards for their usability. She has led risk communication efforts for a variety of environmental, safety, and health issues, including Superfund cleanup, cancer cluster investigation, and bioterrorism planning as well as helped design risk assessment models for stakeholder use. ANDREA H. McMAKIN is a communication specialist at the Pacific Northwest National Laboratory in Richland, Washington. She works with government and industry clients on communicating risks and other information concerning science, technology, and business. She's contributed to risk communication programs involving cancer clusters, health and environmental impacts from waste and Superfund sites, international nuclear and biological safety, worker chemical exposure, global climate change, and risk perception research.
Advertisement