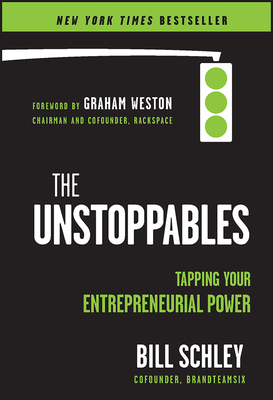 The Unstoppables (Hardcover)
Tapping Your Entrepreneurial Power
Wiley, 9781118459492, 234pp.
Publication Date: May 6, 2013
* Individual store prices may vary.
Description
How to tap the real source of entrepreneurial power in youand in your organization
The UnStoppables is based on foreword author GrahamWeston's experience growing Rackspace, as well as fascinating casestudies from such organizations as the Navy SEALs and IsraeliSpecial Forces. In The UnStoppables Bill Schley, co-founder of the branding firm Brand Team Six shows how the bestpractitioners think continuously about two things: The Big Pictureand the Little Picture--essence and essentials. The essentials arethe business and financial mechanics required of any workingenterprise. But the essence is the emotionalmechanics to deal with obstacles, risk, fear and failure.Mastering the emotional mechanics is how entrepreneurs succeed andwinners win. This is how you capture the unlimited power ofentrepreneurship to spark a successful start-up or revitalize amature organization.
Explains why what's stopping you is more important than what'sstarting you, how to tap the essence of entrepreneurial power inyou and in your organization, and how motion generates vision
Bill Schley is an award winning author and established experton branding and marketing communications, as well as the co-founderand creative director of the branding firm Brand Team Six
Graham Weston is the internationally renowned co-founder andchairman of Rackspace, the world's #1 cloud computing and managedhosting company
Locally, this book teaches you how to become an entrepreneur orto inspire an entrepreneurial mindset to boost any stage business.Globally, this book is about how this nation can launch thousandsmore entrepreneurs for the future.
About the Author
BILL SCHLEY is an award-winning author, speaker, established expert on branding, and a lifelong entrepreneur. Hebegan his career as a writer at Ted Bates Advertising in New York, the legendary agency that created the Unique Selling Proposition.Bill is the cofounder and creative director of BrandTeamSix. TheUnStoppables is his fourth book.GRAHAM WESTON started his first business in 7th grade, selling organic pork with ads that read: "Go Hog Wild!" Today, heis the internationally renowned cofounder and chairman ofRackspace, the world's number-one Open Cloud computing and managedhosting company. Started in San Antonio in 1998, Rackspace hasgrown to over 5,000 employees and 200,000 customersworldwide--including over 60 percent of the Fortune 100. He isa leading philanthropist and supporter of entrepreneurship throughhis 80/20 Foundation. He is also the cofounder of Geekdom, Texas'slargest collaborative workspace that brings innovators, developers, and entrepreneurs together to build ideas and start-ups.
or
Not Currently Available for Direct Purchase