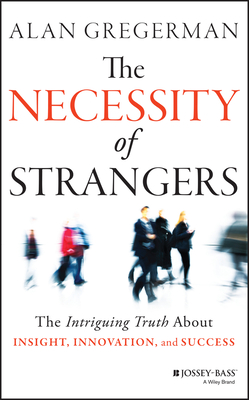 The Necessity of Strangers (Hardcover)
The Intriguing Truth about Insight, Innovation, and Success
Jossey-Bass, 9781118461303, 240pp.
Publication Date: September 10, 2013
* Individual store prices may vary.
Description
A counterintuitive approach to fostering greater innovation, collaboration, and engagement
Most of us assume our success relies on a network of friends and close contacts. But innovative thinking requires a steady stream of fresh ideas and new possibilities, which strangers are more likely to introduce. Our survival instincts naturally cause us to look upon strangers with suspicion and distrust, but in The Necessity of Strangers, Alan Gregerman offers the provocative idea that engaging with strangers is an opportunity, not a threat, and that engaging with the right strangers is essential to unlocking our real potential. The Necessity of Strangers reveals how strangers challenge us to think differently about ourselves and the problems we face.
Shows how strangers can help us innovate better, get the most out of each other, and achieve genuine collaboration
Presents principles for developing a "stranger-centric" mindset to develop new markets and stronger customer relationships, leverage the full potential of partnerships, and become more effective leaders
Includes practical guidance and a toolkit for being more open, creating new ideas that matter, finding the right strangers in all walks of life, and tapping the real brilliance in yourself
To stay competitive, you and your business need access to more new ideas, insights, and perspectives than ever before. The Necessity of Strangers offers an essential guide to discovering the most exciting opportunities you haven't met yet.
About the Author
Alan Gregerman is an award-winning author, businessadvisor, and teacher. His writing and consulting work focuses onhelping companies and organizations create winning strategies andmore remarkable products, services, and customer experiences byunlocking the genius in all of their people. Alan is the author oftwo previous books, Surrounded by Geniuses and Lessonsfrom the Sandbox. He lives in the Washington DC area with hisfamily.
or
Not Currently Available for Direct Purchase