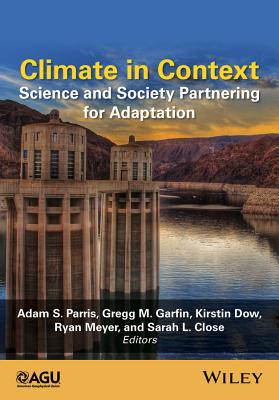 Climate in Context (Hardcover)
Science and Society Partnering for Adaptation (Wiley Works)
American Geophysical Union, 9781118474792, 304pp.
Publication Date: April 18, 2016
* Individual store prices may vary.
Description
This book provides concrete guidance for organizations and individuals who want to develop research projects, initiatives, interdisciplinary research teams, and programs at the science-society interface. It will be an invaluable source for a wide range researchers and professionals who need a state-of-the-art synthesis of practices to foster the co-production of climate science knowledge, policy, and action. Moreover, it provides a well articulated framework and examples useful to the development of cutting-edge training programs and courses on the art and practice of science-society engagement, partnership, and research collaboration.
"Cimate in Context" offers the reader a clearly structured conceptual framework for designing interdisciplinary use-inspired science, illustrative examples from multiple sectors and places including environmental justice communities, and best practices for adapting science to meet societal challenges in the 21st century. The authors move beyond case studies to provide peer-reviewed, qualitative and quantitative evaluation of these research projects. The last, and easily one of the most important, distinguishing characteristics is that this book is written in a manner accessible and usable to both academic communities and decision makers.
About the Author
Adam Parris, M.S., is Executive Director of the Science and Resilience Institute at Jamaica Bay, a partnership between the City of New York, the National Park Service, and nine universities working in the New York-New Jersey Harbor, including his home institution the City University of New York - Brooklyn College.Gregg Garfin, Ph.D., is Associate Professor and Associate Extension Specialist in Climate Science, Policy & Natural Resources, in the School of Natural Resources and the Environment, and Deputy Director for Science Translation and Outreach in the Institute of the Environment at the University of Arizona.Kirstin Dow, Ph.D., is Professor of Geography in the University of South Carolina. She leads the Carolinas Integrated Sciences and Assessments (CISA), one of the eleven NOAA-sponsored RISA teams, helping to expand and build the nation's capacity to prepare for and adapt to climate variability and change through building partnerships. Ryan Meyer is Senior Scientist at the California Ocean Science Trust, an organization that works across traditional boundaries between government, communities, and science to build trust and understanding in ocean and coastal science. Sarah L. Close, Ph.D., is a Program Specialist in the Climate and Societal Interactions division of the National Oceanic and Atmospheric Administration's Climate Program Office where she helps manage the RISA program, in addition to working on climate adaptation in coastal ecosystems. Sarah is supported by the University Corporation for Atmospheric Research (UCAR).
or
Not Currently Available for Direct Purchase