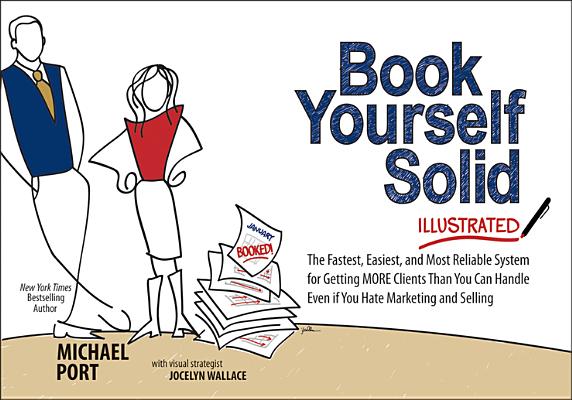 Book Yourself Solid Illustrated (Paperback)
The Fastest, Easiest, and Most Reliable System for Getting More Clients Than You Can Handle Even If You Hate Marketin
Wiley, 9781118495421, 454pp.
Publication Date: April 1, 2013
* Individual store prices may vary.
Description
A visual way to easily access the strategies and tactics inBook Yourself Solid
Learning new concepts is easier when you can see thesolution. Book Yourself Solid Illustrated, a remarkable, one-of-a-kind work of art, transforms the Book YourselfSolid system into a more compelling and easy-to-consumeplaybook for any business owner.
You won't find business school graphs or mindmaps. Instead, you'll find compelling, visual stories thatreinvent old and tired business concepts, making Book YourselfSolid Illustrated a fun and playful book that you will revisityear after year as you get more clients than you can handle.
There isn't a business book on the market that can showyou how to apply the strategies, techniques, and skills necessaryto generate new leads, add more clients, and increase profitsthrough visuals. Previously you could only read or listen toadvice, now you can see it and get it faster.
This illustrated version is organized into four modules: yourfoundation, building trust and credibility, simple selling andperfect pricing, and the Book Yourself Solid 6 coreself-promotion strategies.
Reengineering the book with visual strategist, JocelynWallace, has given author Michael Port new ways of explaining andexpanding his gold-standard material.
Author Michael Port has been called a "marketing guru" by theWall Street Journal and "an uncommonly honest author" byThe Boston Globe, and wrote Book Yourself Solid(in it's 2nd edition), Beyond Booked Solid, The ContrarianEffect which was selected as a 2008 top ten business book byAmazon.com and the 2008 #1 sales book of the year by1-800-CEO-READ, and The New YorkTimes Bestseller, The Think BigManifesto.
Author is one of the most popular business coaches in the worldand headlines events all over the world.
Master the techniques in Book Yourself Solid Illustrated, and take your service business to the next level today.


For the first time ever you can have the Book Yourself SolidMobile app. Install it on any device and the Book Yourself SolidSystem comes to life. Do all of 49 exercises from the new book onany device, including your desktop computer. This thingrocks.
About the Author
Michael Port (New Hope, PA) (www.michaelport.com) has been called "an uncommonly honest author" by the Boston Globe and a "marketing guru" by the Wall Street Journal. Michael Port is the author of four bestselling books, including the first edition of Book Yourself Solid, Beyond Booked Solid, The Contrarian Effect, and the New York Times best-seller, The Think Big Manifesto.A television personality, Michael can be seen regularly on cable and network TV. He receives the highest overall speaker ratings at conferences around the world and offers inspiring, collaborative, and results-oriented mentoring programs for small business success.At the end of the day, his most significant accomplishment and responsibility is probably just like yours--the job of being a devoted parent, son, friend, and citizen. Michael speaks to companies and associations throughout the world on marketing and sales.Jocelyn Wallace is founder of Red Eleven Group, LLC, a business strategy firm that helps entrepreneurial companies set their vision, create a plan that everyone understands, and go make it happen. Known and loved for her visual facilitation style, Jocelyn has a gift for pulling ideas from you and translating them visually onto large paper, whiteboards, or even your conference room windows!A teacher-trainer at heart, Jocelyn uses visual thinking principles every day with her clients and has been a conference speaker on the topic at an international level.