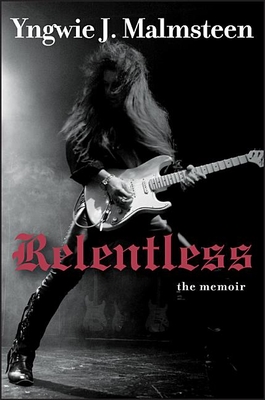 Relentless (Hardcover)
The Memoir
Wiley, 9781118517710, 288pp.
Publication Date: May 1, 2013
* Individual store prices may vary.
Description
The rock-and-roll memoir of one of the world's greatest guitarists
Yngwie Malmsteen's revolutionary guitar style--combining elements of classical music with the speed and volume of heavy metal--made him a staple of the 80s rock scene. Decades later, he's still a legend among guitarists, having sold 11 million albums and influenced generations of rockers since. In Relentless, Malmsteen shares his personal story, from the moment he burst onto the scene seemingly out of nowhere in the early 80s to become a household name in the annals of heavy metal. Along the way, he talks about his first bands, going solo, his songwriting and recording process, and the seedy side of the rock business.
Malmsteen was named one of Time magazine's ten greatest electric guitar players
The author's most recent album, Spellbound, was released in December 2012
Ideal for guitar players, heavy metal fans, and those who enjoy rock memoirs
About the Author
YNGWIE MALMSTEEN is one of rock's virtuoso guitarists. "Yngwie J. Malmsteen's Rising Force," his 1984 Grammy-nominated album, established the style now referred to as neoclassical melodic rock. He has recorded more than two dozen solo albums and a dozen more with other bands, as well as fifteen live performance DVDs. In 2013, Yngwie created the online website RelentlessShred.com, which is considered the most authoritative source for how to play his challenging neoclassical style, covering everything from harmonic minor scales and diminished chords to advanced arpeggios. With an international fan base, Yngwie continues to record and tour around the world.