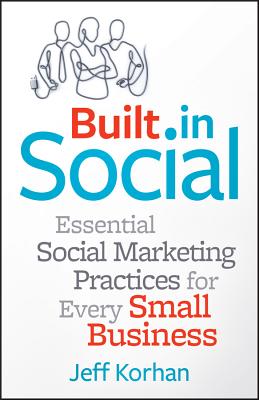 Built-In Social (Hardcover)
Essential Social Marketing Practices for Every Small Business
Wiley, 9781118529744, 216pp.
Publication Date: April 15, 2013
* Individual store prices may vary.
Description
How to redesign your business for social relevance andprofitable success
Marketing today is driven by the customer. The old mindset wasfinding customers for your products and services. The new one iscollaborating with the customers whose trust you have earned todevelop better products and services for them. Businesses thatsucceed today acknowledge that they are in shared relationshipswith customers, employees, and other influencers in thecommunity--even competitors. Built-In Social provides astep-by-step approach to building a business channel that alignsyour business with its ideal customers and ensures yourorganization's continued relevance and success.
Intended for mainstream businesses that want to get resultsfrom social media networking and marketing but have been frustratedby the obstacles, namely, the lack of a basic method or structure(and a practical step-by-step approach) for converting relevantsocial qualities into profitable outcomes
Author Jeff Korhan is a speaker, trainer, and coach helpingmainstream small businesses increase their influence, enhancecustomer relationships, and accelerate growth
Built-In Social will show you how to turn visibility, authenticity, accessibility, community, and relevance intomeasurable and profitable gains.
About the Author
JEFF KORHAN is a marketing speaker, trainer, and coach helping small businesses use social media and Internet marketing to create exceptional customer experiences that accelerate business growth. He is a former Fortune 50 sales and marketing executive who later founded a landscape services company that was twice named Small Business of the Year. Jeff is a syndicated publisher and regular content contributor to leading business publications, and his New Media and Small Business Marketing site is ranked among the Top 100 Small Business blogs in the world by Technorati Media. He lives in suburban Chicago, Illinois. Visit www.jeffkorhan.com to connect with Jeff.
or
Not Currently Available for Direct Purchase