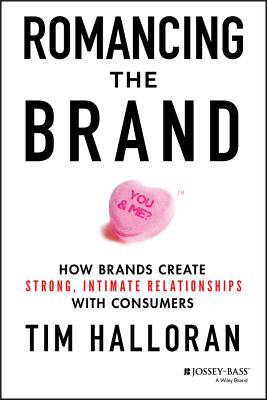 Romancing the Brand (Hardcover)
How Brands Create Strong, Intimate Relationships with Consumers
Jossey-Bass, 9781118611289, 272pp.
Publication Date: January 7, 2014
* Individual store prices may vary.
Description
A young woman tells a focus group that Diet Coke is like herboyfriend. A twenty-something tattoos the logo of Turner ClassicMovies onto his skin. These consumers aren't just using thesebrands. They are engaging in a rich, complex, ever-changingrelationship, and they'll stay loyal, resisting marketinggimmicks from competitors and influencing others to try the brandthey love.
How can marketers cultivate and grow the deep relationships thatearn this kind of love and drive lasting success for theirbrands?
In Romancing the Brand, branding expert Tim Halloranreveals what it takes to make consumers fall in love with yourbrand. Step by step, he reveals how to start, grow, maintain, and troubleshoot a flourishing relationship between brand andconsumer. Along the way, Halloran shares the secrets behindestablishing a mutually beneficial "romance." Drawingon exclusive, in-depth interviews with managers of some of theworld's most iconic brands, Romancing the Brand armsyou with an arsenal of classic and emerging marketingtools--such as benefit laddering and word-of-mouthmarketing--that make best-in-class brands so successful. Thebook is filled with examples, strategies, and tools from powerfulbrands that consumers love, including Coke, Dos Equis, smartwater, the Atlanta Falcons, Domino's Pizza, Bounty, Turner ClassicMovies, and many more.
Ultimately, Romancing the Brand provides marketers with aset of principles for making brands strong, resilient, andbeloved--and the insight and confidence to use them.
About the Author
Tim Halloran is president of Brand Illumination. He hasbuilt, directed, and consulted with some of the world's largestbrands, at top companies including Coca-Cola, Home Depot, KraftFoods, Procter & Gamble, Delta Airlines, glacéau(vitaminwater and smartwater), Georgia Pacific, the NBA, and TurnerBroadcasting System. His successes include the national launch ofPowerade sports drink and its sponsorship of the Olympics, codevelopment of Dasani bottled water, and the development ofCoke's first Internet marketing initiative. He was awardedInnovator of the Year by Coca-Cola and named Max Award Finalist forInnovation by Georgia State University. He has taught at EmoryUniversity and Mercer University, and he lives in Atlanta with hiswife and three children.