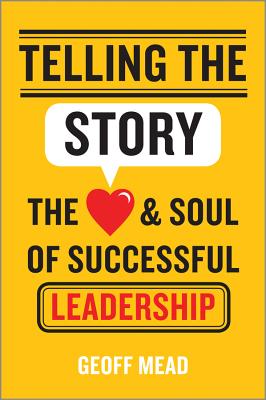 Telling the Story (Hardcover)
The Heart and Soul of Successful Leadership
Jossey-Bass, 9781118617168, 336pp.
Publication Date: May 19, 2014
* Individual store prices may vary.
Description
How to master the art of narrative leadership
Telling the Story
shows how leaders affect our understandingof what is possible and desirable through the stories they tell. Itopens a door into the world of narrative leadership: what storiesare and how they work; when to tell a story and how to tell onewell; and how the language and metaphors we use influence ouractions and change how we think about the world.
- Explains how narrative leadership shapes and defineswhat's possible on an organizational level
- Written by a renowned consultant on the art of narrativeleadership
- Challenges leaders to consider how narrative can influenceand help create the kind of society they envision
About the Author
Geoff Mead is the founder of Narrative LeadershipAssociates, a consultancy focused on the use of storytelling forsustainable leadership (www.narrativeleadership.com). As anorganizational consultant, keynote speaker and workshop leader, hehas taken his work on narrative leadership into the boardrooms ofblue chip companies, universities and government departments, forthe past two decades.After a successful police career, life took a different turn whenhe discovered the magic of stories and began to explore their powerto liberate the human spirit. Now, he performs traditional storiesand runs story-based workshops in the UK and as far afield asSpain, Canada and Japan. His first book Coming Home to Story: Storytelling Beyond Happily Ever After was published in 2011 byVala (www.valapublishers.coop).Pursuing various academic and research interests, he has beenawarded an MBA, a postgraduate diploma in Gestalt psychology and aPhD in personal and leadership development, resulting in hisappointment as a visiting research fellow at the University ofBath. He has also designed national public service leadershipprogrammes and served on the faculty of the Prime Minister's TopManagement Programme.Geoff has four children, five grandchildren and an entirelyunreasonable love of Morgan sports cars. He divides his timebetween his partner's house in the Cotswolds and Lyme Regis, where he lives and writes in sight of the sea.
or
Not Currently Available for Direct Purchase