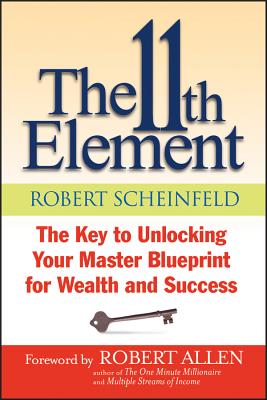 The 11th Element (Paperback)
The Key to Unlocking Your Master Blueprint for Wealth and Success
Wiley, 9781118659779, 256pp.
Publication Date: September 19, 2003
* Individual store prices may vary.
Description
Praise for The 11th Element

"Bob has cracked the code on how to produce business breakthroughsat breakneck speed by tapping into The 11th Element. I consider The11th Element to be a 'must have' for all executives, managers, network marketers, and entrepreneurs who want to create andincrease their wealth and personal freedom."
-From the Foreword by Robert Allen
Author of The One Minute Millionaire and Multiple Streams ofIncome

"The 11th Element teaches you the valuable skill of asking forassistance from your 'Inner CEO' to improve your decision making.Napoleon Hill explored this principle in Think and Grow Rich, andScheinfeld takes it to a new level."
-Ken Blanchard
Coauthor of The One Minute Manager(r) and Big Bucks

"Bob Scheinfeld gives his readers an extremely valuable ally tohelp them achieve impressive success. It's an ally that readershave had all along but has escaped their awareness. After youcomplete The 11th Element, you'll be aware of it and able to use itto maxim ize your effectiveness. You'll love the book but hateyourself for not realizing that you had this ally right from thestart."
-Jay Conrad Levinson
Author of the Guerrilla Marketing series of books

"Fascinating Read it twice. Scheinfeld presents athought-provoking exploration on what it takes to succeed on amassive scale."
-Randy Gage
Author of Prosperity Mind

"A major business breakthrough . . . a masterpiece for anyonewondering why results eluded them before. Remarkable."
-Dr. Joe Vitale
Bestselling author of Spiritual Marketing and The GreatestMoney-Making Secret in History

"Profound, absorbing, and like nothing written before about wealthand success. The 11th Element shows you specific, practical ways totap into a powerful new source of support to receive a quantumboost in power you can use to fuel the growth of your business andyour quality of life."
-Gay Hendricks, PhD
Author of The Corporate Mystic and Conscious Golf: The ThreeSecrets of Success in Business, Life and Golf.
About the Author
Praise for The 11th Element "Bob has cracked the code on how to produce businessbreakthroughs at breakneck speed by tapping into The 11th Element.I consider The 11th Element to be a 'must have' for allexecutives, managers, network marketers, and entrepreneurs who wantto create and increase their wealth and personal freedom." -From the Foreword by Robert Allen Author of The One Minute Millionaire and Multiple Streams ofIncome"The 11th Element teaches you the valuable skill of asking forassistance from your 'Inner CEO' to improve yourdecision making. Napoleon Hill explored this principle in Think andGrow Rich, and Scheinfeld takes it to a new level." -Ken Blanchard Coauthor of The One Minute Manager(R) and BigBucks!"Bob Scheinfeld gives his readers an extremely valuable ally tohelp them achieve impressive success. It's an ally thatreaders have had all along but has escaped their awareness. Afteryou complete The 11th Element, you'll be aware of it and ableto use it to maxim ize your effectiveness. You'll love thebook but hate yourself for not realizing that you had this allyright from the start." -Jay Conrad Levinson Author of the Guerrilla Marketing series of books"Fascinating! Read it twice. Scheinfeld presents athought-provoking exploration on what it takes to succeed on amassive scale." -Randy Gage Author of Prosperity Mind"A major business breakthrough . . . a masterpiece for anyonewondering why results eluded them before. Remarkable." -Dr. Joe Vitale Bestselling author of Spiritual Marketing and The GreatestMoney-Making Secret in History!"Profound, absorbing, and like nothing written before aboutwealth and success. The 11th Element shows you specific, practicalways to tap into a powerful new source of support to receive aquantum boost in power you can use to fuel the growth of yourbusiness and your quality of life." -Gay Hendricks, PhD Author of The Corporate Mystic and Conscious Golf: The ThreeSecrets of Success in Business, Life and Golf