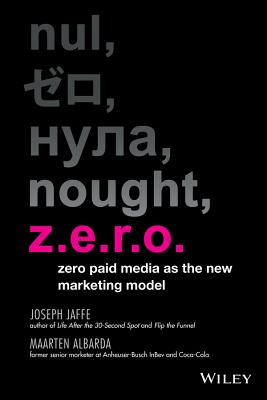 Z.E.R.O. (Hardcover)
Zero Paid Media as the New Marketing Model
Wiley, 9781118801154, 288pp.
Publication Date: October 7, 2013
Description
The world has changed. Everyone keeps reminding marketers and advertisers about the never ending and accelerating forces of technology disruption, consumer changes, and innovation evolution in the marketing world today. Sounds exciting except for the fact that we're doing absolutely nothing about it. Zero.

Simply put, under current operating conditions, the advertising industry will not be able to sustain itself and without taking action, is likely to result in severe to catastrophic outcomes- from financial underperformance to job loss to even a collapse of the current media ecosystem.

The solution? The Marketing Model can be fixed by slashing your ad budget, and investing in the Z.E.R.O. framework:
Zealots
Entrepreneurship
Retention
Owned Assets
About the Author
Joseph Jaffe (www.startupsforbrands.com; Westport, CT) is one of the most sought-after consultants, speakers and thought leaders on innovation, marketing, new media and social media. He is Founder & Partner of Evol8tion, LLC, an innovation agency that matches early stage startups with established brands to partner via mentoring, pilot programs, investment and/or acquisition.Maarten Albarta (www.mlaconsultingllc.biz; Stamford, CT) has led a distinguished global career in senior pan-regional and global leadership roles at JWT, Leo Burnett, McCann-Erickson, The Coca-Cola Company and AB-InBev, living and working in The Netherlands, the UK, Japan, Germany and the US. He is a sought-after speaker, having made regular appearances at the Festival of Media, Cannes Advertising Festival, DMexco, Ad: Tech and other leading events. He is also a contributor to various marketing training programs such as Stanford University's Digital Marketing Program and C-Squared's Festival of Media LatAm Academy.
Advertisement