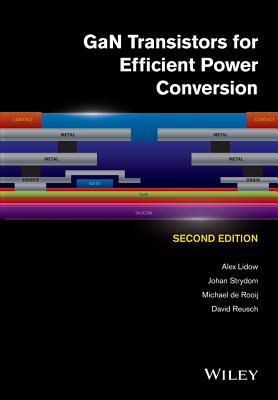 GaN Transistors for Efficient Power Conversion (Hardcover)
Wiley, 9781118844762, 250pp.
Publication Date: September 15, 2014
* Individual store prices may vary.
Description
Gallium nitride (GaN) is an emerging technology that promises to displace silicon MOSFETs in the next generation of power transistors. As silicon approaches its performance limits, GaN devices offer superior conductivity and switching characteristics, allowing designers to greatly reduce system power losses, size, weight, and cost.
This timely second edition has been substantially expanded to keep students and practicing power conversion engineers ahead of the learning curve in GaN technology advancements. Acknowledging that GaN transistors are not one-to-one replacements for the current MOSFET technology, this book serves as a practical guide for understanding basic GaN transistor construction, characteristics, and applications. Included are discussions on the fundamental physics of these power semiconductors, layout and other circuit design considerations, as well as specific application examples demonstrating design techniques when employing GaN devices.
With higher-frequency switching capabilities, GaN devices offer the chance to increase efficiency in existing applications such as DC-DC conversion, while opening possibilities for new applications including wireless power transfer and envelope tracking. This book is an essential learning tool and reference guide to enable power conversion engineers to design energy-efficient, smaller and more cost-effective products using GaN transistors.
Key features:
Written by leaders in the power semiconductor field and industry pioneers in GaN power transistor technology and applications.
Contains useful discussions on device-circuit interactions, which are highly valuable since the new and high performance GaN power transistors require thoughtfully designed drive/control circuits in order to fully achieve their performance potential.
Features practical guidance on formulating specific circuit designs when constructing power conversion systems using GaN transistors - see companion website for further details.
A valuable learning resource for professional engineers and systems designers needing to fully understand new devices as well as electrical engineering students.
About the Author
Alex Lidow is CEO of Efficient Power Conversion Corporation (EPC). Prior to founding EPC, Dr. Lidow was CEO of International Rectifier Corporation. A co-inventor of the HEXFET power MOSFET, Dr. Lidow holds many patents in power semiconductor technology and has authored numerous publications on related subjects. Lidow earned his Bachelor of Science degree from Caltech in 1975 and his Ph.D. from Stanford in 1977. Johan Strydom is Vice President, Applications at EPC Corporation. He received his Ph.D. from the Rand Afrikaans University, South Africa in 2001. From 1999 to 2002 he worked as a post-doctoral researcher at the Center for Power Electronics (CPES), Virginia Tech. Dr. Strydom held various application engineering positions at International Rectifier Corporation and Linear Technology Corporation, working on DC-DC converters, motor drives, and class-D audio. Dr. Michael A. de Rooij is Executive Director of Applications Engineering at Efficient Power Conversion Corporation (EPC). Prior to joining EPC he worked at Windspire Energy where he helped develop the next generation of small vertical-axis wind turbine inverters. In addition, Dr. de Rooij has worked as a Senior Engineer at the GE Global Research Center. Dr. de Rooij's research interests and activities include, solid-state high-frequency power converters and devices, utility applications of power electronics, uninterruptible power supplies, integration of power electronic converters, power electronic packaging, induction heating, photovoltaic converters, Magnetic Resonance Imaging (MRI) Systems and gate drivers with protection features. Dr. de Rooij is a Senior Member of the IEEE. He received his Ph.D. from the Rand Afrikaans University (now called The University of Johannesburg), South Africa. David Reusch is Director, Applications at EPC Corporation. Dr. Reusch earned a doctorate in electrical engineering from Virginia Tech, where he also earned his bachelor's and master's degrees. While working on his Ph.D. he was a Bradley Fellow at the Center for Power Electronics Systems (CPES). Dr. Reusch has first-hand experience designing with GaN transistors to meet the demands for lower loss and higher power density in power converters. He is active in IEEE organizations and during the last several years has published papers at APEC and ECCE conferences.
or
Not Currently Available for Direct Purchase