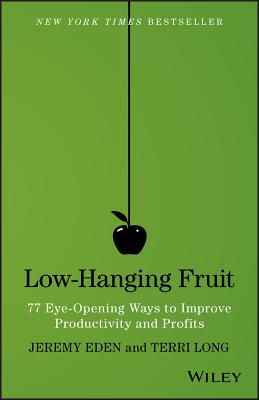 Low-Hanging Fruit (Hardcover)
77 Eye-Opening Ways to Improve Productivity and Profits
Wiley, 9781118857922, 224pp.
Publication Date: March 3, 2014
* Individual store prices may vary.
Description
A straightforward, valuable guide to reduce effort and raise profits
Step inside any organization, even a very successful one, and you'll probably find a lot of waste if you know where to look. From providing a feature that consumers don't care about to exhausting efforts on tasks that only require adequate attention, there are countless areas where resources go down the drain. In Low-Hanging Fruit, Jeremy Eden and Terri Long provide seventy-seven of their most effective techniques for improvement, each drawn from their success working with major companies.
For more than twenty years, Jeremy Eden and Terri Long have helped companies of all sizes make millions by harvesting their low-hanging fruit. In this practical guide, Eden and Long share valuable, refreshing insights in entertaining chapters that get straight to the point. This book shows you how to smoothly shift your approach, your priorities, and your mindset to reveal the hidden potential in your organization. Whether you are a member of a small team or a global executive, you will learn how to identify and solve hidden problems, improve productivity, and increase profits.
Many people don't realize that there are dozens of quick, easy, and affordable ways to make things better. Don't buy into the myth that only some people have creative ideas. Typically, the people closest to the work (from the factory floor to the C-Suite) and the people closest to the customer know the best ways to improve business. We can pluck this "low-hanging fruit" every day to save time and money right away.
Need to grow your company's earnings but don't know where to find the low-hanging fruit? The answer is right in front of you, but harvesting it takes skill. Eden and Long show you seventy-seven clever ways to discover possibilities and make meaningful changes. Low-Hanging Fruit shows you how to easily improve your job satisfaction, your team's performance, and your company's earnings.
About the Author
JEREMY EDEN and TERRI LONG have worked with the CEOs of a wide range of companies in both size and industry to guide their teams through a galvanizing earnings growth process. They have worked with companies such as PNC Financial, H.J. Heinz, Manpower, The Schwan Food Company, Energy East, Webster Financial, and Standard Register, among many others.Jeremy attended Yale College and Yale School of Management where he is on the Advisory Board. As a McKinsey & Co. consultant, Jeremy served clients such as Goldman Sachs, Hilton Hotels and Travelers Insurance. Jeremy then left to develop what is now the Harvest Earnings innovative Idea Harvest process.Terri received her degree in Finance from the University of Illinois at Urbana-Champaign. She was in the corporate banking world for nearly two decades in a number of customer-facing senior roles, including at U.S. Bancorp, one of the most efficient banks in the country. Terri was a client of Jeremy's and was so impressed with the principles of his approach that she joined him over a decade ago.They are the Co-CEOs of Harvest Earnings Group headquartered in Chicago.
or
Not Currently Available for Direct Purchase