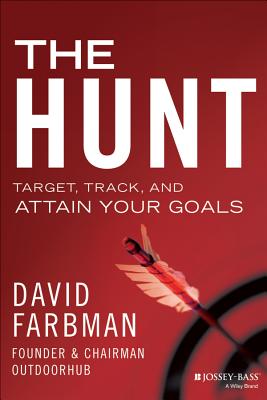 The Hunt (Hardcover)
Target, Track, and Attain Your Goals
Jossey-Bass, 9781118858240, 240pp.
Publication Date: April 14, 2014
* Individual store prices may vary.
Description
Do you consider yourself a hunter? If you have you ever dated, played sports, or held a job, then your answer should beyes. We are always hunting--trying to track downand take the things we want, the things that will make our lifebigger, better, safer; more satisfying, exciting, and just plainfun.
In The Hunt, serial entrepreneur, hunter, and OutdoorHubfounder David Farbman offers a way of thinking about work, life, and our connection with the world based upon the ancient disciplineof hunting. The Hunt will inspire anyone striving for moreto think like hunters--with poise, concentration, and skill;to identify their targets; and, with focus, determination, andsatisfaction, to achieve those goals.
Specifically, The Hunt shows how to:
Get a bigger, clearer picture of your life and goals, anddiscover things about yourself and your ability that you'venever noticed or seen before
Gain the hunter's special skills at observation andperception, to understand your environment;
Learn "predatory consciousness" - the fullunderstanding of your prey, whether business partners orcompetitors, so you can predict their actions;
Harness and leverage every opportunity to obtain your desiredoutcomes and inspire your best thinking
Fully understand where to pick battles, and where not to"hunt" at all.
The principles of The Hunt will give you a clearer, sharper lens for seeing the world and shaping your role in it.You'll make better decisions, form stronger alliances, buildbetter strategies, target bigger wins, and uncover moreopportunities. Best of all, you will become a true hunter when youknow who you are, what you want, and how to get what you'rehunting for.
About the Author
David Farbman is the founder of OutdoorHub, AgHub, andActionHub, the Internet's largest outdoor content andadvertising networks. He is a member of the executive board ofYoung Presidents' Organization and sits on the DMC/HarperHospital's board of trustees, the Southeast Region YMCAboard, and the Detroit Economic Growth Corporation. He lives inBingham Farms, Michigan, with his family.For more information, visitwww.facebook.com/1DavidFarbman.
or
Not Currently Available for Direct Purchase