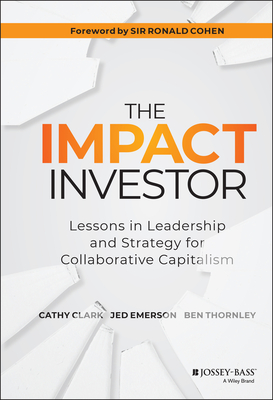 The Impact Investor (Hardcover)
Lessons in Leadership and Strategy for Collaborative Capitalism
Jossey-Bass, 9781118860816, 384pp.
Publication Date: October 13, 2014
* Individual store prices may vary.
Description
Your money can change the world
The Impact Investor: Lessons in Leadership and Strategy for Collaborative Capitalism offers precise details on what, exactly, impact investing entails, embodied in the experiences and best and proven practices of some of the world's most successful impact investors, across asset classes, geographies and areas of impact. The book discusses the parameters of impact investing in unprecedented detail and clarity, providing both context and tools to those eager to engage in the generational shift in the way finance and business is being approached in the new era of Collaborative Capitalism.
The book presents a simple thesis with clarity and conviction: "Impact investing can be done successfully. This is what success looks like, and this is what it requires." With much-needed lessons for practitioners, the authors view impact investing as a harbinger of a new, more "multilingual" (cross-sector), transparent, and accountable form of economic leadership.
The Impact Investor: Lessons in Leadership and Strategy for Collaborative Capitalism serves as a resource for a variety of players in finance and business, including:
Investors: It demonstrates not only the types of investments which can be profitable and impactful, but also details best practices that, with roots in impact investing, will increasingly play a role in undergirding the success of all investment strategies.
Wealth advisors/financial services professionals: With unprecedented detail on the innovative structures and strategies of impact investing funds, the book provides guidance to financial institutions on how to incorporate these investments in client portfolios.
Foundations: The book explores the many catalytic and innovative ways for for-profit and non-profit investors to partner, amplifying the potential social and environmental impacts of philanthropic spending and market-rate endowment investment.
Business students: By including strategies for making sound impact investments based on detailed case studies, it provides concrete lessons and explores the skills required to enhance prospects for success as a finance and business professional.
Policy makers: Reinforcing the urgency of creating a supportive and enabling environment for impact investing, the book demonstrates ways policy has already shaped the sector, and suggests new ways for policymakers to support it.
Corporate leaders: The book includes essential advice on the way business is and must be responding to a new generation of Millennial clients and customers, with unique insights into a form of value creation that is inherently more collaborative and outcomes-driven.
About the Author
CATHY CLARK is director of the CASE Initiative on Impact Investing (CASE i3) and a professor at Duke University's Fuqua School of Business. She also co-leads the Social Entrepreneurship Accelerator at Duke, part of USAID's Higher Education Solutions Network. She is a leading authority on for-profit social entrepreneurship, impact investing, and impact assessment. JED EMERSON is senior advisor to three family offices, each of which is executing 100% impact/sustainable investment wealth management strategies. He is also chief strategist of ImpactAssets and a senior fellow with the Centre for Social Investment at Heidelberg University. BEN THORNLEY is the founder and managing director of ICAP Partners and a strategic advisor to REDF and Pacific Community Ventures (PCV). He created the Impact Investing Policy Collaborative at PCV, with partners from Harvard University, and consults with CalPERS and other leading financial institutions on the social and economic impacts of over $25 billion of targeted investments.
or
Not Currently Available for Direct Purchase