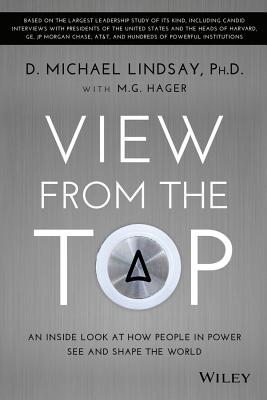 View from the Top (Hardcover)
An Inside Look at How People in Power See and Shape the World
Wiley, 9781118901106, 218pp.
Publication Date: May 5, 2014
* Individual store prices may vary.
Description
Learn leadership from the best--proven insights from the power elite in business, government, and beyond
View from the Top brings readers inside the corridors of power and relates the personal stories and powerful findings from the Platinum Study, a groundbreaking study of 550 elite American CEOs, senior government leaders, and nonprofit executives based on ten years of research. The largest study of its kind, the Platinum Study delves into the domains of the elite with stories that illustrate both the use and misuse of power across the landscape of prominent American institutions such as AT&T, Harvard University, UnderArmour, JP Morgan Chase, Bain & Company, and the White House. The book explores not only how leaders wield power, but it also provides readers with insight into applying the strategies of the successful in their own lives.
In the United States, only a few thousand individuals make the decisions that influence the lives of over 300 million people. Whether in the government, business, higher education, or the arts, these individuals direct policy and set the terms of national debates, yet remain virtually unknown. View from the Top explores the real lives of the elite and the social worlds they inhabit, revealing lessons about influence at the top, and the seven principles that shape those in power. The results of the Platinum Study include unexpected truths such as:
Being born into wealth is a poor predictor of leadership success
One program can set you on the path to leadership
It doesn't matter what college you attend
A leader's best work never sees the light of day
Time-crushed executives are better situated than most to manage their family lives
Crisis is the quickest way for a leader to shape an institution
Working longer does not mean working better
The book examines the different paths to power and describes the essence of leadership and the fundamental traits that distinguish a leader from the pack. For anyone seeking sharpen their leadership skills and impact the world around them, View from the Top: An Inside Look at How People in Power See and Shape the World provides the roadmap to taking charge and inspiring change.
About the Author
D. MICHAEL LINDSAY is the president of Gordon College and one of the youngest college presidents in the country. An award-winning sociologist and educator, Dr. Lindsay has lectured on five continents and worked with dozens of organizations to increase their leadership capacities. His Pulitzer-nominated book, Faith in the Halls of Power, was listed in Publisher's Weekly "Best Books of 2007," and his work has been profiled in hundreds of media outlets worldwide. He and his wife, Rebecca, live with their three daughters on the campus of Gordon College just north of Boston.
or
Not Currently Available for Direct Purchase